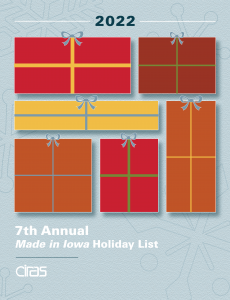 In need of some last-minute gift ideas? We've compiled a short list of Iowa-manufactured products that make great gifts!
In addition to the products above, there are lots of great places throughout Iowa that feature Iowa-made products, including the Heart of Iowa Marketplace, Octagon Center for the Arts, the Iowa Artisans Gallery, Best of Iowa Kalona, and more!
Need even more ideas? Here are our lists from 2017, 2018, 2019, 2020, and 2021.
We want to hear your ideas too! Use #madeiniowa and tag us on Twitter (@ciras_isu) or LinkedIn (@ciras-iowastateuniversity)!