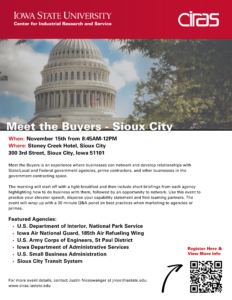 In the competitive business landscape, building customer trust is paramount. To instill this confidence, businesses require visibility and a clear understanding of their offerings.
Acknowledging this challenge, CIRAS is proactively addressing it. Our upcoming 'Meet the Buyers' event in Sioux City next month offers businesses and government entities a vital platform to connect. 
Government procurement officials will detail their needs and decision-making processes during this two-and-a-half-hour event. Simultaneously, aspiring government contractors can introduce themselves and network with peers. The event also includes a 30-minute Q&A panel, providing insights into effective marketing strategies. 
Mary Zimmerman, a CIRAS government contracting specialist, emphasized the event's significance: "This event is a remarkable opportunity for companies to engage in direct, one-on-one interactions with agencies potentially interested in doing business – all in one room! Face-to-face meetings are the most potent means to establish and solidify positive relationships with prospective buyers." 
Participating agencies include the U.S. Department of Interior National Park Service, Iowa Air National Guard, U.S. Army Corps of Engineers St. Paul District, Iowa Department of Administrative Services, U.S. Small Business Administration, Sioux City Transit System, City of Council Bluffs, and more, with further announcements anticipated. 
Secure your spot at "Meet the Buyers" now to open the doors to endless possibilities. 
For more information, contact Justin Niceswanger at jnice@iastate.edu or 515-509-9565.