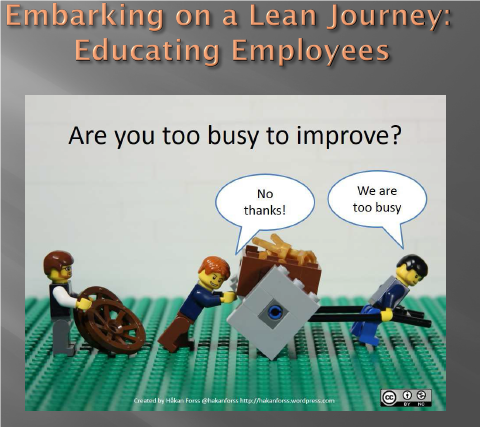 A 165-year-old Des Moines lumber company has gained new efficiencies, better customer service, and a tangible reduction in injuries after its employees embraced continuous improvement.
Rick Kyser, operations manager at Gilcrest/Jewett Lumber Company, said company leaders have seen a massive cultural shift since the lumberyard took its first steps toward Lean management at the end of 2016.
"Any company that's thinking about embarking on a Lean journey, everybody will tell you that it's really, really hard," Kyser said. "But it's kind of like a rocket ship. To get that thing off the ground takes a lot of energy. But once it's up and orbiting, it hardly takes any energy at all."
As far as Kyser is concerned, orbit was achieved in early 2017 when Gilcrest/Jewett designed the layout for a new warehouse using continuous improvement techniques – but without telling its employees the background behind the process. "It was tough to do without people understanding all the concepts, but we were able to work through all that, and we came out with a great win," he said.
Gilcrest/Jewett used cross-functional teams to improve the purchasing experience for customers by eliminating waste and making certain that most-used items were stored in efficient ways. Employees noticed the change, bought into the culture, and quickly began offering significant suggestions.
"It really sparked that creativity in the employees that they were no longer hesitant to let people know their ideas," Kyser said. "It just snowballed from there."
The lumber company began formal Lean training for 300 employees at the beginning of 2018. Kyser and some department managers attended the Iowa Lean Consortium's Annual Conference that fall – and again the next year. Soon, company leaders were fully invested and advocated for Continuous Improvement alongside Kyser at a national lumber conference.
ILC program director Tracy Schuster said Gilcrest/Jewett illustrates the power of turning employees into Lean champions. "It's all about empowering people to make the work better," she said.
Kyser, acknowledging a slow-down in the Lean transformation due to COVID-19, nevertheless credits employees for the significant improvements made since 2017. One employee idea, to switch from using metal to woven banding for holding lumber loads together, has eliminated "quite a few" annual workplace injuries and made the job site banding cleanup easier and safer for customers.
"One of the joys I get out of it is just seeing employees go from reluctance to showing initiative," Kyser said. "People will support what they helped create."
For more information, contact Tracy Schuster at tschust@iastate.edu or 515-0164.