A downtown Des Moines apartment building avoided a costly elevator replacement last year after CIRAS helped its owners recreate an essential piece of safety equipment.
Investors bought the aging, 11-story building at 600 East Fifth Street in Des Moines in 2013. They then renamed it The Lyon and spent two years remodeling it into 103 new apartments. A problem soon became apparent, however, in that something important seemed to have been lost during the sale.
An account manager with The Lyon's elevator maintenance company estimated that equipment there dates back "at least 50 years"—to a time when elevator shafts were built with key-controlled "safeties" located roughly at each floor to catch the car in case a cable broke. Once engaged, whether via accident or test, those safeties could only be reset by turning a key in a slot in the elevator car floor.
A key that The Lyon no longer had.
"The cab is original to the building, and they no longer manufacture that model," said Brittany Jackson, an account manager with Premier Real Estate Services. Borrowing a key soon became untenable, so "we looked online. We looked on eBay. Nothing. Recreating one was the only option."
Premier contacted CIRAS for help, but physical limitations blocked the first attempt to create a 3D scan of the keyhole. So experts reverted to much older technology: they stuffed modeling clay into the mechanism, then scanned the removed clay and used it to create a 3D design.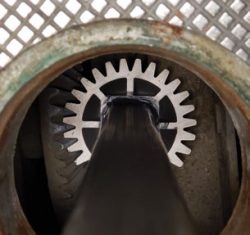 Chris Hill, director of the CIRAS Technology Assistance Program (TAP), then worked with CIRAS project manager Jake Behrens to clean up the computerized design and 3D print a plastic prototype. After a few modifications, CIRAS used its metal 3D printer to create a new permanent key.
"This just shows that these technologies are not just for manufacturers," Hill said, arguing that many technologies found in Iowa State University's Digital Manufacturing Lab powered by Alliant Energy also could prove helpful in other ways, such as when builders seek to recreate old architectural features. "There are a lot of other areas where they can be put to use."

For Jackson, the project was a lifesaver.
"Without this option, I'm not quite sure where the owners of our building would be," she said. "We got severely lucky in finding CIRAS."
For more information, contact Chris Hill at chhill@iastate.edu or 515-313-8251.
A version of this article was published in the Winter 2021 edition of CIRAS News. To read more of that edition or others, please explore elsewhere on our website.