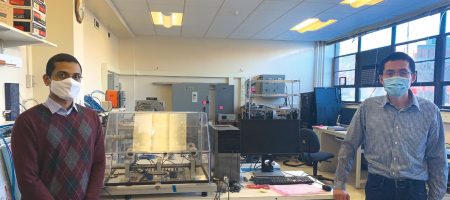 Grace Technologies has estimated that its new system could be worth up to $10 million to the company over a five-year period as equipment operators rush to save money on downtime, expensive repairs, and maintenance-related injuries.
Drew Allen, Grace Technologies vice president for strategic innovation, said large organizations in high-value industries have long had predictive maintenance capabilities because they use expensive equipment to monitor rotary machines and detect vibration changes in bearings. Grace is one of many companies seeking to translate that technology to a broader market.
"In the past, it used to be that a huge generator at a utility company or a turbine at a nuclear power plant would use this, and maybe the system would cost $250,000," he said. "The difference is that we have systems that would be able to be placed on motors of all sizes and would cost a few hundred dollars."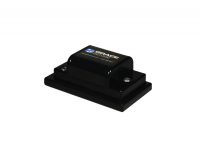 The Grace-Iowa State relationship began in 2018 when CIRAS project manager Carey Novak followed up on an unrelated capstone project involving Iowa State engineering students. Novak initiated deeper discussions about mutual interests in research and development, especially predictive maintenance and IoT, and connected Grace with Chao Hu, an assistant professor in Iowa State's Department of Mechanical Engineering. Hu also oversees the System Reliability and Safety Laboratory, which supports several undergraduate and graduate students conducting industry and academic research.
An initial project in 2019 was funded jointly by Grace Technologies and the CIRAS Technology Assistance Program (TAP). This was followed by two research projects funded by the Iowa Board of Regents' Regents Innovation Fund and a two-year grant from the National Science Foundation (NSF). In December, the NSF also recommended $256,000 for the research as part of the government's Small Business Technology Transfer program.
Hu said Grace-related research involves using machine learning to create algorithms that can interpret bearing vibration data and predict when machines are close to failure. Companies will be able to monitor the health of bearings and rotors in different types of machines and (because of the IoT framework) do so with many machines simultaneously.
"This should help equipment manufactur­ers plan their equipment maintenance and avoid unplanned downtime," Hu said. "That could be of huge value to them. If a bearing breaks on a piece of equipment and there's no early warning, it's not only the bearing that fails. The shaft and other components around it can get destroyed, too. It's a cascading effect."
As part of the process, researchers have been engaging Iowa companies that support the new Kent Corporation Feed Mill and Grain Science Complex at Iowa State. In particular, the team is collecting feedback on what tools are needed to monitor machine health of pelletizers and milling and rolling equipment.
"We don't want this work to end up being just an academic exercise," said Hu, whose team already has submitted journal and conference articles for publication. "We want this to be practical and useful."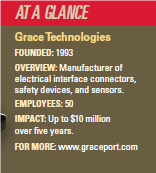 The Grace-Iowa State team also is assessing opportunities to file an invention disclosure and possible patent application sometime during the year. If successful, Grace Technologies would commercialize the technology through a licensing agreement with Iowa State's Office of Intellectual Property and Technology Transfer.
Novak described predictive maintenance as the "Holy Grail" for equipment manufacturers. Companies everywhere are looking for a way to reliably predict that a machine is going to fail within a certain window—a warning that arrives early enough to schedule maintenance but not so early that valuable machine life must be sacrificed.
"If you know that a piece of equipment is going to fail in the next minute, that's useless," Novak said. "If you know that a piece of equipment is going to fail within the next 12 months but you don't know when, then that's useless as well."
Allen praised his company's partnership with CIRAS and Iowa State as a valuable way of helping small companies explore the impact of a new idea. Without Iowa State's research lab, test facilities, and faculty and student expertise, Grace Technologies would have been forced to spend tens of thousands of dollars to develop that capacity—with no real idea of what the payoff might be.
"Getting all the people assembled— the knowledge, the ability to do the research, the technical understanding of bearings—that was definitely beyond our capability by ourselves," Allen said.
Novak praised the partnership's value across the board, including Grace's support for Iowa State internships.
"This is what every university wants," he said. "When they talk about university innovation and an idea getting commercialized, this is the kind of team you want. You want a company working closely with the faculty while you're supporting grad students and others. It's a multifaceted system."
For more information, contact Carey Novak at cenovak@iastate.edu or 515-408-4257.
A version of this article was published in the Winter 2021 edition of CIRAS News. To read more of that edition or others, please explore elsewhere on our website.