A Knoxville-based heavy equipment manufacturer estimates that the company retained more than $10 million in sales after CIRAS helped it solve a problem with cracking shafts on a rock drill used in highway construction.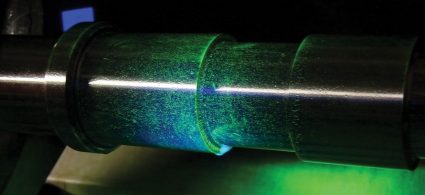 Mark Prachar, a project engineer with Weiler, said the company took control of a new process for making components for its rock drills in 2018—only to find cracks in the shafts produced. Company engineers, many of them Iowa State University graduates, turned to CIRAS for help diagnosing the problem.
"We didn't have the testing equipment in-house to know what was happening on the surface or just below the surface of the part, because we had never done it before," Prachar said. "We were changing things, and it wasn't improving the result, and we needed to know why."
Dave Utrata, a CIRAS project manager who works in Iowa State's Center for Nondestructive Evaluation (CNDE), used a combination of ultraviolet light and tiny magnetic particles to help the company pinpoint sources of cracking and understand what was going wrong.
"To make rock drills, you need really hard materials," Utrata said. "When you grind that material into final shape, it's really tricky to grind it properly. If you don't do it exactly right, it will overheat, then contract too much—and that leads to cracking."
Prachar said CIRAS expertise helped the company zero in on correct grinding procedures. Weiler experimented with new techniques throughout the end of 2018, regularly taking parts to Utrata for evaluation.
"CIRAS helped us hone in on the specific type of failure that we had," Prachar said. "It helped us develop our grinding process and in-house NDE inspection techniques."
Weiler estimates that CIRAS helped the company avoid an estimated $10 million in lost sales.
For more information, contact Dave Utrata at heydave@iastate.edu or 515-294-6095.
A version of this article was published in the Winter 2021 edition of CIRAS News. To read more of that edition or others, please explore elsewhere on our website.