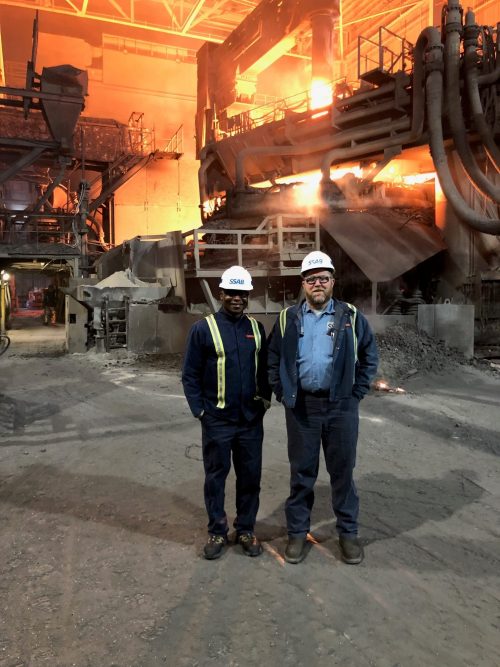 A Muscatine steel factory is on the verge of innovation after increased student involvement developed into major research at Iowa State University.
SSAB, an international steel producer, recently completed CIRAS-arranged research and filed for a patent on a new optical fiber technology for measuring the temperature of molten steel in electric arc furnaces in real time. The company also is experimenting with Ames Laboratory on ways to improve the rolled-steel alloys SSAB manufactures.
Combined, the two projects should have an economic impact of more than $11 million.
Sunday Abraham, research and development director at SSAB Americas, said the company recently increased its involvement in Iowa State's senior "capstone" projects.
One such project, in which Industrial and Manufacturing Systems engineering students were asked to design a new way to measure molten steel temperatures exceeding 1,600°C, led to successful faculty research. Abraham said an approach now is being developed for industrial use.
When ready, "it will make us much more efficient and much more consistent," Abraham said. "Saved time will result in increased productivity."
SSAB also has been working with Ames Laboratory to develop new procedures for making alloys. Matt Besser, director of the laboratory's Materials Preparation Center, said companies can get access to equipment and scientific staff members when they aren't busy with federal research.
CIRAS project manager Adam Boesenberg, who first connected SSAB with Ames Laboratory, said such arrangements help companies test new approaches without shutting down enormous production lines.
To deliver the best products, companies "always need to be innovating," Boesenberg said. "That's not always easy to do with the equipment you have in-house."
For more, contact Adam Boesenberg at aboesenb@iastate.edu or 515-294-5903.
A version of this article was published in the Fall 2020 edition of CIRAS News. To read more of that edition or others, please explore elsewhere on our website.