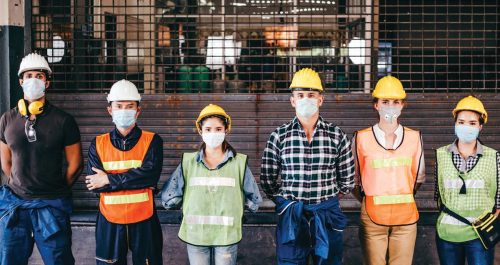 Iowa companies may be well positioned to navigate the coronavirus, but experts say they should be prepared for surprises during what is likely to be a long and unpredictable economic recovery.
Business leaders shouldn't expect to suddenly reemerge in rosy times, they warn. Instead, plan for all contingencies, and don't count on being able to relax anytime soon.
"I think basically what's going to happen is that the economy is going to plug along until there's some small interruption, and then we'll have a setback," said Mike O'Donnell, program director for the CIRAS Manufacturing Extension Partnership. "The looming threat is that if you're not prepared to go through a sawtooth-type recovery, then that can be dangerous. Lack of cash flow is really dangerous as a manufacturer."
In Iowa and elsewhere, manufacturing has been an up-and-down experience for some time (page 3, Figure 1).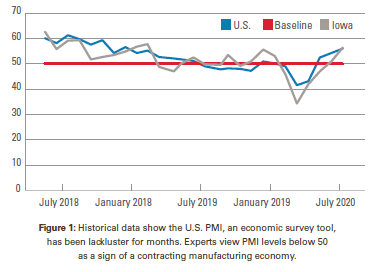 The national manufacturing PMI, an economic survey tool used to forecst business expectations over the next few months, measured below 50 for five of the last seven months before the pandemic hit. (A score of 50 is the neutral line between a growing or contracting manufacturing sector.)
Iowa-specific figures were below 50 for three of those seven months.
"I think one of the key things to kind of keep in the back of our minds is that manufacturing was a little soft even before COVID-19 hit," O'Donnell said. "Even if we come back to where we were, that's still not great."
PMI figures for the first three quarters of 2020 show Iowa cratering at a 34.4 in April. But the index crossed the 50 mark in July and measured 56.4 in August.
That and other data encourage a cautious optimism among Iowa business leaders. A June survey by the Iowa Association of Business and Industry (ABI) showed that more than 76 percent of the ABI's board members believed their sales would be steady or higher in the third quarter of 2020. Sixty percent intended to move ahead with planned Q3 capital expenditures. (By a September survey, the percentage planning Q4 capital expenditures had slipped slightly but remained at 57 percent.)
"I think it's realistic," said ABI president Mike Ralston. "We have what looks to me to be a pretty good shot at riding this thing out and not falling off the cliff."
"But at the same time, what happens if there's a pretty dramatic second wave (of COVID-19)?" Ralston added. "What happens if employees don't come back?"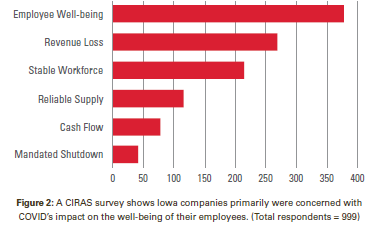 Along with revenue loss, employee well-being and workforce stability have been dominant concerns for Iowa employers throughout the pandemic, according to a 23-week CIRAS survey of Iowa manufacturers (Figure 2). Worries about supply chain difficulties increased slightly after the May wave of business reopenings, then appeared to ease.
"Most of Iowa's largest companies have been very diligent to put in place processes and controls to minimize the risk of COVID-19 to their workforces," O'Donnell said. "But among smaller manufacturers, too many are following the 'it's not going to happen to me' mindset and either have not put enough controls in place or have already started to relax those controls beyond what is prudent."
The result, experts believe, is that some businesses may be fine going forward. But others won't be ready if another outbreak arrives. And you may not be able to tell which is which—even among the people you do business with—until it's too late.
"I believe we're going to see continuous economic improvements and interruptions over the next year," O'Donnell said. "You're going to have random companies being hit by people being out or the disruptions of having to shut down because of an outbreak."
Many Iowa companies are likely to face headwinds from a declining nationwide demand, according to Dave Swenson, a research scientist in the Department of Economics at Iowa State University. Food-related businesses should remain stable, Swenson said, but Iowa producers of big-ticket items such as electronics and large machinery are likely to face troubled times throughout the next year.
"In a recession, no matter what, just by definition demand is down," Swenson said. "You can't sell it if nobody wants to buy it, and you can't build it if you can't get the parts. The overall economy can't thrive until the virus is under control."
So how should business prepare for a potentially bumpy road?
The first step, O'Donnell said, is to revisit your supply chain strategy. Make sure you have enough on hand to keep your company running, and try to do business with more people so you have options if a problem develops. Learn as much as possible about everyone involved with your business and what potential disruptions you could face.
Smaller firms that sell to large manufacturers also should be prepared for the possibility that one day you might have to prove to an OEM that you're taking all reasonable steps to protect against COVID-19.
All companies should stay in close contact with customers and be continually reevaluating markets, O'Donnell said. Are you still targeting the correct people in this new world? Are you doing enough to reach customers over the Internet?
Experts agree that the future appears to tilt upward. But the climb to economic recovery is likely to be slow and bumpy.
"I think we're going to ride this out, and maybe we won't grow in 2020 or the first part of 2021," Ralston said. "But eventually, we're going to be fine."
For more information about planning your response to COVID-19, email ciras.info@iastate.edu.
A version of this article was published in the Fall 2020 edition of CIRAS News. To read more of that edition or others, please explore elsewhere on our website.