A Des Moines company with an eight-decade history of working with fabrics in the food and medical industries is returning to its roots following the COVID-19 pandemic.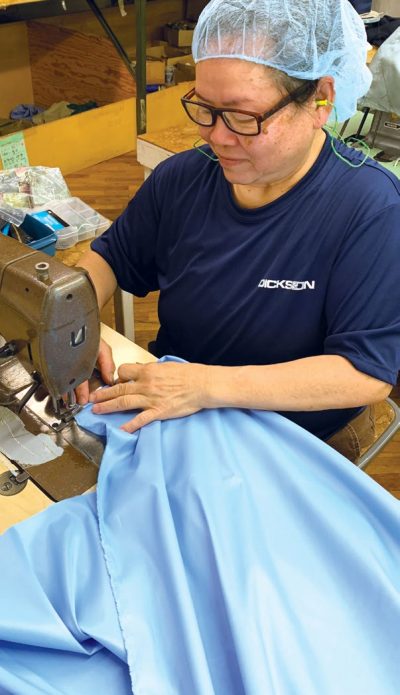 Founded in 1946, Dickson Industries made its name making medical fabrics and garments before venturing into various lines of food-industry clothing and preconsumer products, such as specialized netting used to enhance the flavor of meat during smoking. When the coronavirus decimated demand for food-industry products, Dickson officials realized that they were ideally situated to help fill part of Iowa's need for personal protective equipment (PPE).
The company began producing hospital isolation gowns to fill emergency shortages this spring and since has decided to continue.
David Dickson, Dickson Industries president, said the business now plans to produce some reusable gowns for COVID-19 patients in Iowa and import others from the company's longstanding suppliers in Asia.
The combination of an existing supply chain and local manufacturing capability means the company can be incredibly flexible and able to pivot quickly, he said. Dickson also had existing relationships with medical supply distributors, making it easy for hospitals to purchase from the company.
"We're thinking this could become a permanent line item for us under the medical division," Dickson said. "The comments we've received have been overwhelmingly positive."
Dickson made the gown decision after extensive conversations with CIRAS about what it would take to meet governmental safety standards going forward. CIRAS previously had helped the company obtain Safe Quality Food certification in 2018.
CIRAS project manager Kim Anderson said federal regulators issued Emergency Use Authorizations (EUAs) in the early days of the pandemic to help meet an overwhelming PPE demand. Those EUAs eventually will expire, but Dickson already understands the type of safety-conscious process that medical-grade manufacturing requires, she said. "The uniqueness to them is that they have so many options."
Other Iowa businesses might have similar chances to bend their existing capabilities into new markets, Anderson said. Companies that recognize those opportunities will find that barriers to entry are historically low.
"It's new territory," Anderson said. "We have a very diverse manufacturing pool in Iowa. A lot of states don't have that. We really could play a key role in getting some of this manufacturing shifted back to America."
For more information, contact Kim Anderson at kanderson@iastate.edu or 515-686-9032.
A version of this article was published in the Summer 2020 edition of CIRAS News. To read more of that edition or others, please explore elsewhere on our website.