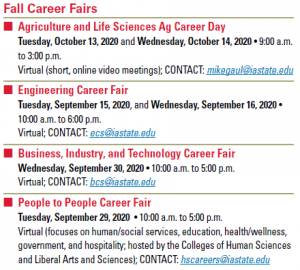 Career fairs at Iowa State University are going digital this fall.
University officials say the change is a response to the COVID-19 pandemic and provides an option that still will allow employers to network with many students and alumni during the events. It also eliminates the time and expense of travel.
Kellie Mullaney, with Engineering Career Services, said the College of Engineering will continue its recent years' practice of offering career fairs on two separate days— September 15 and 16.
The only difference is that employers will be able to use the CyHire computer system to provide information about their organizations and employment opportunities. Companies will manage an electronic queue of job seekers, who then will be asked to present their qualifications during a short video conference.
"ISU has a reputation for high quality and effective career fairs and we intend to do all that we can to make this temporary shift to virtual networking a good experience," Mullaney said.