ALERT – Iowa Gov. Kim Reynolds on Thursday announced new restrictions for residents in northeastern Iowa in light of worsening COVID-19 activity there. Anticipating some uncertainty about these actions, CIRAS wants to share the following information: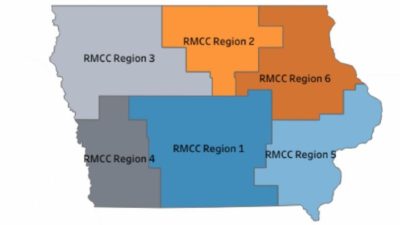 What is Region 6?
The Iowa Public Department of Health (IPDH) has divided Iowa up into six Regional Medical Coordination Centers (RMCC).   You can click on that link (scroll right on the menu bar to get the RMCC and Assessment tabs) to see the COVID-19 infection statistics for the state or per region.  Region 6 includes:  Allamakee, Benton, Black Hawk, Bremer, Buchanan, Clayton, Delaware, Dubuque, Fayette, Grundy, Howard, Jones, Linn, and Winneshiek counties. This includes such cities as Cedar Rapids, Dubuque, and Waterloo.
What do the Assessment Scores Mean?
IPDH has developed a 12-point scoring system to provide a COVID-19 Assessment for each RMCC.  They have a COVID-19 Assessment (scroll right) web-page where you can see the score for each region.  Per their metrics definition, a score of 0 to 3 means you are to be prepared and aware; a score of 4 to 9 to use social distancing and mitigation policies and 10 or above is where they would "consider" shelter in place orders.   Region 6 scored an assessment of "10" and is what prompted Thursday's proclamation.  Do note that Region 1 (central Iowa) and Region 5 (SE Iowa) are currently scored as a "9."
What does this mean for manufacturers/businesses in region 6?
The proclamation does not order any new closure of businesses.
It does order all businesses in Region 6 to:
A – evaluate whether they can have more staff work remotely; and
B – take reasonable precautions, including employee screening, social distancing in their plants, and increased cleaning and hygiene practices.
There are no specific requirements on how to implement these, but all businesses should take a second look at how they can implement those items that already have been recommended. CIRAS has developed guides covering topics such as screening, cleaning practices, and social distancing. Given the news of recent outbreaks at several large food manufacturers across the Midwest, manufacturers should be aggressive in implementing practices to minimize the risks to their employees.
For more information, visit www.ciras.iastate.edu/COVID-19/.  The full text of the governor's order can be found here.
For help responding to the COVID-19 emergency or implementing a response plan, contact: Marc Schneider (563-221-1596, maschn@iastate.edu) or Mike O'Donnell (515-509-4379, modonnll@iastate.edu).