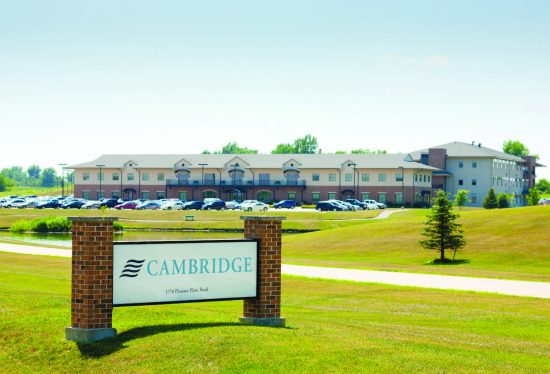 A Fairfield financial solutions firm estimates that the company saved more than $1 million in 2018 by using continuous improvement techniques to shave time and lost effort off its work.
Cambridge Investment Group Inc. is a privately controlled financial solutions firm that provides a broad range of choices regarding financial solutions to more than 3,000 independent financial advisors around the country, as well as their hundreds of thousands of clients.
Amanda Reineke, vice president of accounting and continuous improvement for Cambridge, said the company saved roughly $1.4 million from efficiency improvements.
"The savings came from across the company, with nearly every department participating and contributing," Reineke said. "It came down to many small improvements that added up, with approximately 90 percent of the improvements valued at less than $5,000.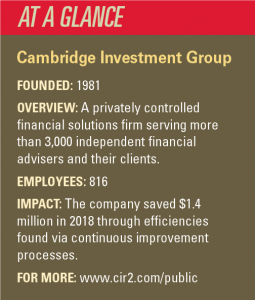 "An example would be eliminating handwritten information in one process," she said. "One team found that it saved two to five minutes of work for each set of paperwork by eliminating the need to decipher handwriting and reach out for clarification."
In another example, the company managed to shrink the time needed to open a new account at Cambridge to an estimated 48 to 72 hours. The goal is to get the time down to 24 hours by the end of 2019.
Cambridge's success comes roughly five years after the company joined the Iowa Lean Consortium (ILC) and began to introduce a culture of continuous improvement at its home office in Fairfield. That was followed over the next few years by the implementation of visual management, value-stream mapping, and other Lean techniques—all while Cambridge company leaders continued attending ILC training events.
Reineke said Cambridge has found value by improving all aspects of the company. This includes better process development and enhancement, increased communication, better cross-collaboration between departments, and more value-stream thinking at every level.
> For more information, contact Iowa Lean Consortium program director Teresa Hay McMahon at thmc@iastate.edu or 515-715-0293.
A version of this article was published in the Summer 2019 edition of CIRAS News. To read more of that edition or others, please explore elsewhere on our website.