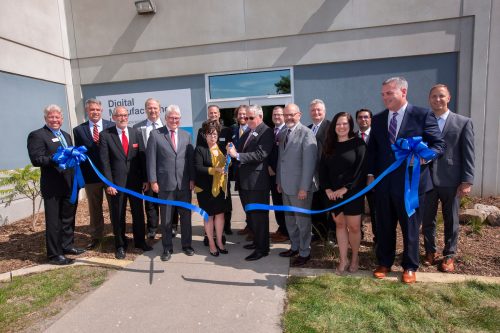 Dozens of Iowa manufacturers got their first glimpse of a path to new technologies on September 26, as CIRAS formally opened its new Digital Manufacturing Lab powered by Alliant Energy.
Representatives from CIRAS, Alliant Energy, and the Iowa Economic Development Authority (IEDA) were joined by Iowa State University and Ames leaders for opening remarks and a tour.
"We're here to celebrate something pretty cool," said Joel Schmidt, vice president of business development for Alliant Energy (co-holder of the scissors in the photo at right). "It's more than a lab run by great minds with some really cool machines. We're celebrating a great partnership that we know will leave a lasting impression on the future of this state."
Debi Durham, IEDA director and an additional co-holder of the scissors, said she was looking forward to the progress that would spring from the facility. "We did it!" Durham exclaimed later as the ribbon officially was cut.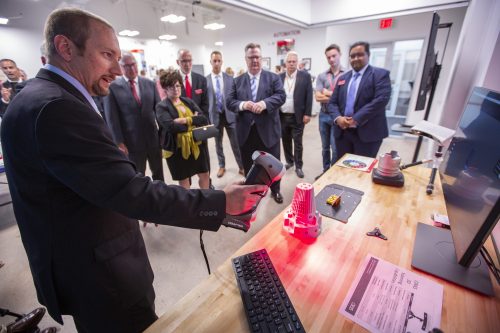 The Digital Manufacturing Lab, made possible by generous support from Alliant Energy and the IEDA, is intended to be a place where Iowa manufacturers can experiment with cutting-edge technologies in a risk-free environment. CIRAS intends to educate Iowa businesses about technologies such as collaborative robots, 3D scanners, and advanced vision systems and to help them explore ways that automation might improve their companies.
Mike O'Donnell, director of the CIRAS Manufacturing Extension Partnership (MEP) program, said the Digital Manufacturing Lab powered by Alliant Energy will serve a valuable need by creating a flexible space where Iowa manufacturers can experience, test, and deploy emerging manufacturing technologies in ways that could help solve their workforce difficulties.
The lab will help companies explore ways to get more done with the same number of workers, O'Donnell said. It also will provide badly needed advice to businesses struggling to make the right investments amid a complicated and ever-changing technological landscape.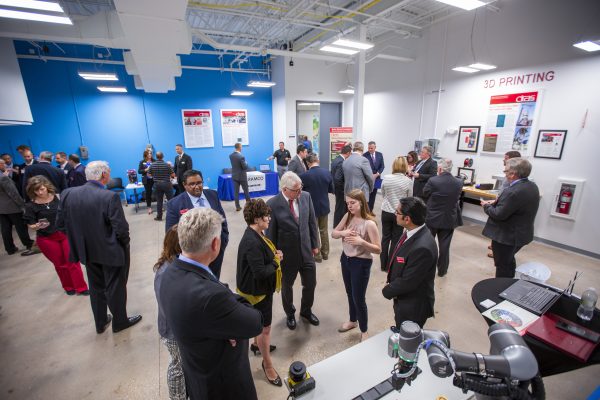 "This is what CIRAS does," O'Donnell said. "We are going to be an unbiased source to help manufacturers identify the right technology for them at the right time."
The goal is to make Iowans smart shoppers and make implementation of new, productivity-improving technology as risk-free as possible.
"The next new idea or machine could hold the key to success that a growing company needs," Schmidt said earlier this year. "This lab provides the perfect opportunity to refine a new approach before it is introduced into the workplace."
Alliant Energy contributed $100,000 to the new lab – the largest private gift to CIRAS in the center's 56-year history. IEDA support is helping to purchase equipment and cover remodeling expenses, while CIRAS is paying the salaries for the staffers who will work with Iowa companies inside it
Iowa manufacturers began touring the new lab as soon as the opening ceremonies had concluded, and projects already are under discussion.
For more information about the Digital Manufacturing Lab powered by Alliant Energy, contact Abhay Grover at agrover@iastate.edu or 515-509-1485.