Are you anxious for inspiration? Excited to learn more about techniques that will help your company continuously improve and grow? Then you should quickly make plans to be in West Des Moines at the end of October.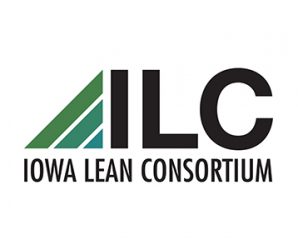 Hundreds of Lean and learning-minded professionals are expected to flock to the Sheraton West Des Moines on October 29-31 for the Iowa Lean Consortium's (ILC's) 2019 Annual Conference.  The event will feature three main speakers, as well as informational breakout sessions, exhibitors, giveaways, and plenty of opportunity for networking.
This is the largest of ILC's training events each year and a must-attend for Lean practitioners looking to bond and share tips with like-minded individuals.
The learning is scheduled to begin with pre-conference workshops and tours on Oct. 29, followed by the bulk of activity on Oct. 30-31. Breakout sessions and workshops will offer continuous improvement learning opportunities for those working in healthcare, services, government, education, manufacturing, finance, and other businesses. Lean leaders and practitioners will share how they are using Lean methods to change their culture while striving for operational excellence.
The conference's three "keynote" speakers this year will be:
Jim Morgan, senior advisor and founder of the lean product and process development effort at the nonprofit Lean Enterprise Institute. He previously served as a global engineering director at Ford Motor Company.
Drew Dudley, an author, speaker, and founder and chief strategist for of Day One Leadership. He previously spent eight years as director of one of Canada's largest leadership development programs at the University of Toronto.
Tammy Rogers, a master facilitator, storyteller, and author with of The Mervyn Group. She has written more than 50 internationally distributed training programs and helped companies improve results through the building of people, processes, and procedures.
Early-bird registration ends on September 15.
For more information, contact Tracy Schuster at or visit the conference website.