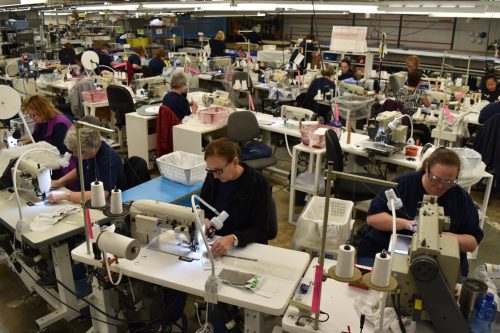 For Mary Phelan, it all boils down to CIRAS being a sounding board she can trust.
Phelan, program manager for government and defense at Polo Custom Products in Monticello, has been working closely with the CIRAS Procurement Technical Assistance Center (PTAC) for roughly two years.
During that time, the company landed multiple government contracts, including a high-volume order for cargo tie-down straps that required Polo to seek out a subcontractor. CIRAS frequently hosts events where large and small companies can meet to discuss collaborating on federal projects, and Phelan ended up finding her new subcontractor following an introduction at a PTAC event.
"I think it's mostly a matter of them pointing you in the right direction and giving you advice and counseling," Phelan said of PTAC government contracting specialists. "I'm only one person here, so I don't have anyone to bounce stuff off of. . . . With CIRAS, even if they don't know the right answer, they know the right person to call."
Phelan has attended multiple PTAC seminars, webinars, and networking events. Last fall, she successfully worked with government contracting specialist Julie Fagle to obtain HUBZone certification for the company.
HUBZones were created by an act of Congress in 1997. The designation, which applies to Historically Underutilized Businesses in certain government-defined areas, among other things gives Polo Custom Products a 10 percent price preference when its bids are evaluated for future contracts.
PTAC specialists are a tremendous resource, Phelan said. "I feel like I can pick up the phone and call them any time."
> For more information, contact Julie Fagle at jafagle@iastate.edu
A version of this article was published in the Spring 2019 edition of CIRAS News. To read more of that edition or others, please explore elsewhere on our website.