America's health care industry was running wild in 2008. Costs were out of control, and Trinity Hospital in Muscatine was struggling to keep up. The small institution lost $6.8 million that year, and it ultimately sought financial stability in a merger with the Iowa Health System.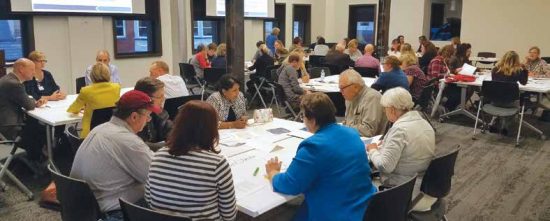 Trinity's new corporate parent (now known as UnityPoint Health) spent the next few years finding a myriad of new back-office efficiencies to save money, said Angela Johnson, current executive director of the hospital's Muscatine campus. But by 2012, it nevertheless had become clear that broader change was still needed in Muscatine.
"That was when HNI came to the table and said, 'There's no reason why this can't be done.'"
They were talking about Lean. HNI Corporation by 2012 had become world famous for its success with Lean manufacturing, a streamlined production method built on efficiency and eliminating waste. HNI literally wrote the book on Lean; Leading the Lean Enterprise Transformation is a well-regarded management textbook written by the man credited with solidifying HNI's Lean culture during the 1990s.
Ever since, Muscatine business people say, HNI employees have served as unofficial Lean ambassadors, frequently suggesting to manufacturers, health care companies, and government groups alike that Lean tools are useful for organizations of almost any stripe.
"Our company was founded on the belief that there's a better way to do things, and it should be member driven," said Todd Murphy, vice president of manufacturing for HNI Corporation. "We called our employees 'members' from the very beginning and empowered those members to take action to improve our company."
HNI began in 1944 as the Home-O-Nize Company, later known as HON, making coasters and small recipe boxes for kitchens. It expanded into office furniture in the early 1950s and grew steadily for decades. Then, in the early 1990s, an unprecedented downturn in sales across the office furniture industry prompted HON to formalize its problem-solving culture. The company began to fully embrace Lean manufacturing methods in 1992, and volume tripled over the next seven years.
Murphy said the company long has believed that it has a duty to help where it can—especially when it comes to Lean. HNI, a strong backer of the Iowa Lean Consortium since it was formed in 2010, regularly hosts its own training events for company members and has made a habit of inviting outsiders to share the seats.
"We're not going to just write checks to give back to the community," Murphy said. "We want to be fully engaged."
HNI ultimately helped Trinity executives spend two days benchmarking ThedaCare, a Wisconsin health system that had found success transferring Lean methods into the medical industry. HNI then gave Trinity $150,000 to help hospital officials get Lean training, Johnson said.
"They also provided us with 18 months of multiple on-site services," she said. "Obviously, at that time, financially, we wouldn't have been able to get the ball rolling without them."
The result?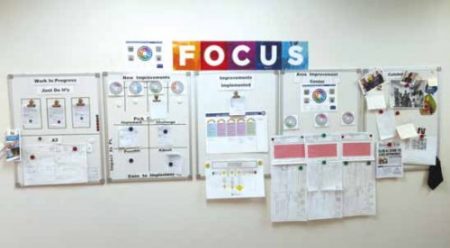 Johnson said Lean has "definitely allowed us to be financially sustainable in a time when rural health care continues to be struggling"—all while continuing to score four-star quality ratings.
City of Muscatine officials similarly benefited from HNI's generosity and Lean expertise when HNI offered seats for municipal employees at internal HNI training classes.
Stephanie Romagnoli, a City of Muscatine human resources employee and chair of the city's Lean committee, said the government has slowly worked Lean into a host of its processes in the intervening years.
"We streamlined the purchase order process, saving some time and some steps, and automated a lot of that," she said. "We did the same thing with the payroll process. The library did quite a bit of Lean work and really worked on cutting down the amount of time that it took to get checked-out books back on the shelves."
Muscatine's fire department also improved its paperwork processing, and the city's independent utility, Muscatine Power and Water, believes that it has saved a great deal of time and money by continually improving its processes.
Jennifer Peterson, Lean coordinator for Muscatine Power and Water, said the journey began when an HNI official on the utility's board of trustees suggested Lean as a way of coping with the financial downturn of 2007. Utility officials read books, watched videos, and attended training—through both HNI and the utility's membership in the Iowa Lean Consortium.
"I would say that HNI provided us that initial spark and kind of pointed us in the right direction," Peterson said. "It's great to know that if we have a problem that we come up with a solution to, then we have that resource in town where we can get some help."
Romagnoli said the city has encouraged municipal employees "to find ways in their own work to wean steps out of the process…and make the process work better."
"These are not necessarily big changes," Romagnoli said. "Sometimes you get these 'aha!' moments; more often it's just these little things. . . . But it's really the culmination of saving those little bits of time here and there that starts to matter."
> For more information on Lean, visit www.iowalean.org. Or contact Iowa Lean Consortium program director Teresa Hay McMahon at thmc@iastate.edu or 515-715-0293.
A version of this article was published in the Spring 2019 edition of CIRAS News. To read more of that edition or others, please explore elsewhere on our website.