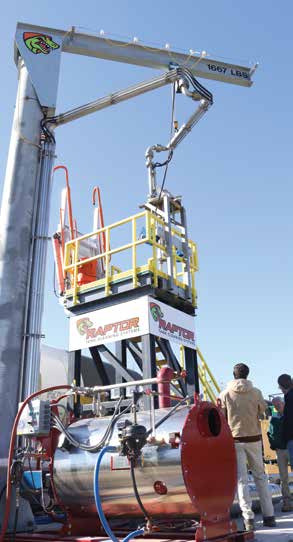 An eastern Iowa manufacturing company landed an important job providing parts for a railcar-cleaning robot after CIRAS helped the company prove its design under a tight deadline.
Precision Metal Works, of Maquoketa, first approached CIRAS in March 2018 for help producing a thick stainless steel elbow that was intended to be part of a wash head for the automated Raptor® Tank Cleaning System.
"This particular type of part and the material they wanted traditionally would have been a cast part, but they couldn't turn that around fast enough to meet the time constraints," said Chris Hill, director of the CIRAS Technology Assistance Program (TAP).
Instead, CIRAS agreed to use its metal 3D printer to create a prototype elbow for the larger machine. After multiple, complicated steps, the completed elbow performed to expectations and the company won the business. The robot began cleaning railcars in Davenport last fall.
Wes Merryman, president of Precision Metal Works, estimates that his company now will see several new jobs and up to $1 million in new business over the next few years if the still-evolving Raptor® meets all its expected production milestones. Merryman praised Scott Tinsman III, founder of Davenport-based Twin State Environmental, who plans eventually to sell tank-cleaning systems in addition to operating the railcar-cleaning service.
"Scott has researched and developed a remarkably advanced product," Merryman said. "Based on the projected payback, it would seem he will continue to have customers contacting him to improve their cleaning costs and employee safety."
Both men agree that CIRAS played a key role in helping Tinsman's team assemble a finished product on schedule.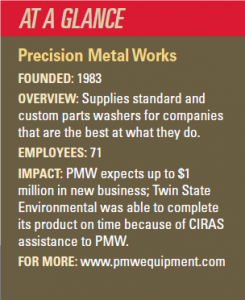 "Without the CIRAS program, we wouldn't have been able to have the prototype done cost effectively—or at all," Tinsman said. "Really, they were a pivotal part of us getting our product up and running."
Raptor® uses an automated, high-pressure, computer-guided wash head to systematically spray the inside of tanker cars. Twin State says this process is safer, faster, and more efficient than placing a human in a contaminated tank.
Tinsman estimates that the system will pay for itself in less than a year.
"The main advantage of working with CIRAS is the knowledge," Tinsman said. "We're not industry experts in 3D printing, in robotic motion, or in metals, but Iowa State University is. . . . Without their knowledge, we wouldn't be able to do this."
> For more information, contact Chris Hill at chhill@iastate.edu or 515-313-8251.
A version of this article was published in the Spring 2019 edition of CIRAS News. To read more of that edition or others, please explore elsewhere on our website.