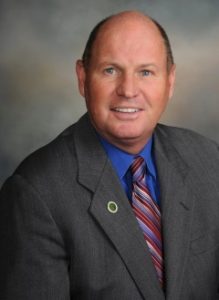 The CIRAS Procurement Technical Assistance Center (PTAC) was lauded by its national organization in March for fostering local coordination in the state's Home Base Iowa program. The Association of Procurement Technical Assistance Centers (APTAC), a group of more than 94 PTACs around the country, presented CIRAS PTAC program director Leah Barton with an Economic Impact award at its annual meeting in Reno, Nevada. APTAC praised work by government contracting specialist Andy Alexander to coordinate Home Base Iowa efforts in Pottawattamie county and "set the standard" for regional collaboration.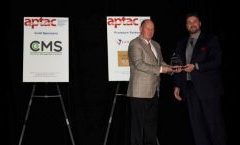 Alexander additionally received the Becky Peterson Human Impact award for helping the Council Bluffs police department strengthen ties to its community after two officers died in the line of duty in 2017. Alexander worked with Council Bluffs to boost community participation in the National Night Out and Citizens Police Academy and helped the town with construction of a new $20 million police headquarters.
APTAC says the Human Impact award recognizes those who go beyond normal PTAC duties, "making a difference in the lives of others and the communities we call home."
Congratulations Andy and members of the PTAC team.
For more information about CIRAS government contracting specialists and how they can help you get started selling your product or service to the government, visit our website and submit a free request for counseling.