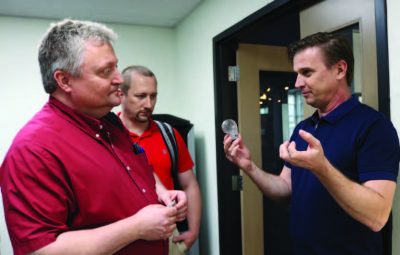 Charles Romans sees tremendous possibility in the relationship he's building with his counterparts on the other side of Iowa.
Romans is the 3D design prototype director for ProtoStudios, a University of Iowa rapid prototyping facility that's part of the MERGE innovation lab in downtown Iowa City. Despite his black-and-gold employer, Romans and his staff have been working closely with CIRAS project manager Mark Williamson and Chris Hill, director of the CIRAS Technology Assistance Program (TAP), for more than a year as part of a joint effort to learn from each other and give taxpayers the maximum benefit from the equipment each agency controls.
"Yes, Virginia, there is a Santa Claus!" Hill said with a chuckle. "It is possible for Hawkeyes and Cyclones to work together."
As part of its broad mission to spread awareness of industrial technology, CIRAS has been using its metal 3D printer to help ProtoStudios create innovative new medical devices for doctors at the University of Iowa Hospital. Similarly, ProtoStudios has helped CIRAS create two product prototypes for an Iowa company via a cutting-edge new 3D printer that can use multiple colors and materials as part of the same build.
Both sides see tremendous value in the exchange so far—and a tremendous possibility to do more down the road.
Romans imagines joint research someday on ways to redesign machinery so that complicated assemblies can be replaced by single 3D-printed parts, whereas Hill envisions public events where experts from both institutions would join forces to teach Iowans the nuances of 3D printing technology.
"I think we've got a good start," Romans said. "The relationship is going to develop over time. But we're definitely going to do more to play together where we can."
Hill, meanwhile, sees the real benefit to CIRAS as being that "we get to work with our clients using a technology that Iowa State does not have."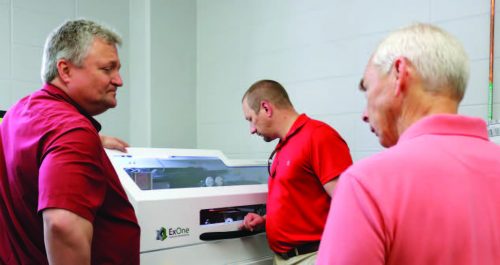 "The state of Iowa in general benefits from this, because we're leveraging the technologies that the state made investments in across the Board of Regents universities," Hill said. "We're being more efficient with those tax dollars. This helps us provide companies with access to a wider range of technologies."
Romans said University of Iowa doctors were pleased by the medical devices CIRAS helped create. Both currently are being evaluated by a board that's been tasked with determining whether surgeons need to follow any new or additional sterilization steps when using 3D-printed devices.
Meanwhile, Mason City-based Ozonics, LLC, has been saving time and money by showing 3D-printed prototypes from CIRAS and ProtoStudios to a focus group of hunters. Ozonics makes ozone-generating devices that hunters use as a means to eliminate their own scents. Nathan Meyer, the company's director of engineering, said the highly competitive business requires continuous upgrades and a high level of responsiveness to customer needs. Printed prototypes can go a long way in making sure that products are salable by the time they hit the market, he said.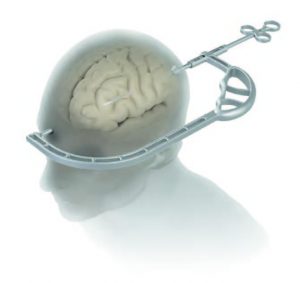 "With this technology, we get an ability to have a broader choice of different methods and options," Meyer said. "In prototyping, the parts are not necessarily exactly what they're going to be in production. Some of it is fragile, and you don't really get the mechanical functionality to it. That's not what we got from CIRAS."
Hill sees the CIRAS-ProtoStudios relationship as another important tool to help TAP fulfill its broader mission of making companies more aware of cutting-edge technology.
"Really what we're doing is an educational case study," Hill said. "We're using the projects as a learning tool to get companies to a level where they feel comfortable, where they can understand the pros and cons of various technologies and decide how to use them. We want to get them to the point at which they can interface with a private company and know the questions to ask."
Technology sharing is just part of the relationship that's evolving between CIRAS and the University of Iowa. Two Iowa City-based CIRAS staffers—project manager Joy Donald and government contracting specialist Samantha Ferm—began working out of offices at MERGE last fall. Both will focus on connecting eastern Iowa businesses with a variety of CIRAS services.
More potential partnerships between the two universities remain under discussion. Stay tuned.
> For more information, contact Chris Hill at chhill@iastate.edu or 515-313-8251.
 A version of this article was published in the Winter 2019 edition of CIRAS News. To read more of that edition or others, please explore elsewhere on our website.