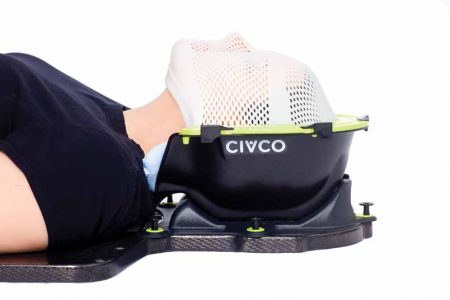 An Orange City manufacturer of medical devices found a faster, cheaper, and more precise way to bring its new product to market after CIRAS showed the company how industrial scanners could be used to prove the product's effectiveness.
CIVCO Radiotherapy, a 36-year-old company that makes a broad variety of radiation therapy products, created the Solstice SRS Immobilization System to keep patients immobile during stereotactic radiosurgery (SRS) and stereotactic radiotherapy (SRT). Both procedures involve delivering high-dose radiation to very specific areas of the head and neck.
Doctors say the higher doses shorten the course of a patient's radiation therapy, meaning fewer treatments. But the process requires extraordinary precision in terms of how patients are positioned when the radiation is delivered.
"Not having a person move is very important" because it aids doctors both in delivering treatment and reading subsequent scans, said Chris Hill, director of the CIRAS Technology Assistance Program. "They really would like to be able to get you back into that exact same position so they can see: Is that tumor moving? Is it growing? Are we treating the same area?"
Allen Oetken, CIVCO's lead quality engineer, said the Solstice SRS Immobilization System was designed to give doctors more control over patient positioning and more ability to "make adjustments on the fly." The company's intention was to create a device that restricts patient movement to no more than 1 millimeter during SRS and SRT treatment. Once the device was built, however, CIVCO needed a way to verify that it had achieved the required accuracy.
"We had really two paths forward," Oetken said. "We could either take it out to a clinical site and have them use it, which takes a lot of money and time, or we could find some other way to prove our effectiveness."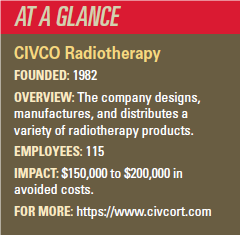 Enter CIRAS.
After two days of tests in spring 2018, Hill and CIRAS project manager Mark Williamson ultimately created a way to attach reference points to the Solstice device and track a patient's positioning via a scanner that ordinarily is used to create computerized designs of mechanical parts.
Oetken estimates that the work saved CIVCO $150,000 to $200,000 and several months of time that the company otherwise would have spent lining up a partner hospital and convincing patients to use the experimental device. In September, the U.S. Food and Drug Administration cleared the Solstice SRS Immobilization System for use.
"It greatly expedited our time to market," Oetken said. "If we needed to go the clinical route on this, we wouldn't even be near the point of submitting this for FDA clearance. That would have taken at least six more months."
> For more information, contact Mark Williamson at mdwmson@iastate.edu or 515-509-7024.
A version of this article was published in the Fall 2018 edition of CIRAS News. To read more of that edition or others, please explore elsewhere on our website.