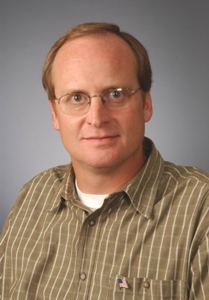 Nunn approached CIRAS last fall seeking help in making his products more energy efficient and more appealing to customers.
"Appliance companies in general are being scrutinized more closely for their energy efficiency," said CIRAS project manager John Roberts. "He wanted to be able to go to these companies and say, 'Hey, we provide one of the most energy-efficient condensate pans.' "
Roberts and Iowa State University engineering student Jacob Meyer eventually walked the company through various possibilities for changing the design of the pans and/or the shape of the heating element to make certain that as little energy was wasted as possible. The most efficient suggestion involved moving from solid heating elements to flexible heating pads that would conform to the interior shape of the pan. Such a switch would mean more energy going directly into heating the water that needed to be evaporated. It also would save Nunn's customers an average of more than $19 per year.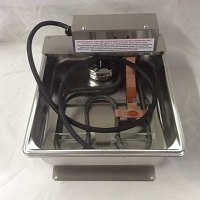 But Nunn quickly was forced to back away from that idea when the flexible pad's manufacturer balked at the notion of it being perpetually submersed in water. Birmingham Manufacturing since has begun evaluating other possible options, but Nunn has yet to settle on any particular design.
Despite the current lack of any economic payback, Nunn feels that Birmingham Manufacturing has benefited from working with CIRAS. Financial rewards will come eventually, he believes, because the company now is on a better path.
"All we've done so far is spend money," Nunn said. "But we still got value out of the process… It just kind of re-awoke us to try to things more frequently, to get ourselves into a position where we can actively be searching for product improvements."
"The best part we got out of it was a fresh perspective," Nunn said. "Looking at it from the standpoint of a disconnected person, CIRAS was asking questions that we had quit asking years before. It was beneficial for us to get that new set of eyes and a fresh set of ideas."
For more information, contact John Roberts at jarobert@iastate.edu or 515-294-0932.