A Davenport manufacturer of alternators and other electrical equipment for specialty vehicles expects to more than double the amount it sells overseas within the next three years.
Officials at American Power Systems Inc. predict the company will at least double its current six-figure export sales once it fully implements everything leaders learned during a CIRAS-driven class presented via the Quad Cities Manufacturing Innovation Hub.
"It's a matter of being strategic," said Brandy Welvaert, marketing and communications manager for American Power Systems. "We're looking at what we would like to accomplish, making a plan, and having those actionable steps to do what we set out to do."
American Power Systems was one of three companies that participated in an ExporTech class provided last fall by CIRAS, Iowa's U.S. Commercial Services office, the Iowa Economic Development Authority, and other partners on behalf of the Quad Cities Chamber.
CIRAS for several years has worked to educate companies via the three-part program, which was developed as part of the MEP National Network along with the U.S. Department of Commerce. Classes involve hands-on sessions with a few companies each year. Business leaders work with experts to craft individual plans for marketing and selling their products overseas.
"Most Iowa companies want to do more in the way of selling to other countries," said CIRAS project manager Marc Schneider. "But it's hard to get started if you don't know where to begin."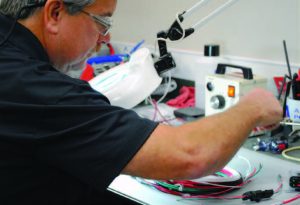 Welvaert said the program walked American Power Systems through every step of what it takes to export and helped the company discover new resources for finding customers.
"We got really strategic, and we were able to spend time digging into everything from what our value proposition is and 'Who is our target audience?' to 'Where are they located?'" Welvaert said. "It answered a lot of questions we didn't know we had."
One key question concerns customer relationships. An important business for the company involves providing equipment for large military and security vehicles—vehicles with growth markets in South Africa, Afghanistan, and the United Arab Emirates. American Power Systems has long maintained a procedure for vetting potential customers, but ExporTech provided additional resources that have helped the company make its background checks stronger.
"We try really hard to make sure that our products are only used by the right people," Welvaert said. "ExporTech provided us with some better means to do that."
> For more information, contact Marc Schneider at maschn@iastate.edu or 563-221-1596.
A version of this article was published in the Summer 2018 edition of CIRAS News. To read more of that edition or others, please explore elsewhere on our website.