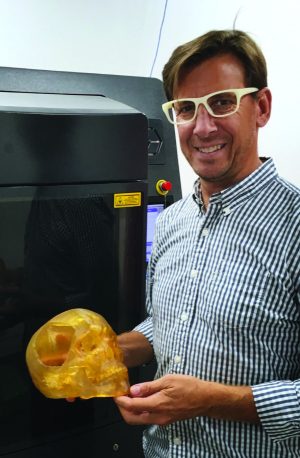 Dennis Fogle believes the dawn is coming for his industry in Iowa.
"We're right on the edge," said Fogle, general manager of Agile Additive Manufacturing Ltd. in Pella. "It's just over the hill. . . . I think we just need a little bit more education here."
Agile, a recently formed offshoot of Canada's largest 3D printing service bureau, opened in Iowa last year in preparation for an expected wave in the use of 3D printing in Iowa manufacturing. Several other Iowa companies likewise have been formed over the last two years with a business plan that involves designing and/or 3D printing products for others. All report more fervent interest in the technology.
"We're at an inflection point," said Brandon Hart, who operates HartSmart Products LLC using six printers in his home. "Those in the design, engineering, and development space all look at 3D printing as a real tool in their toolbelt to develop a product."
CIRAS has been working in 3D printing for nearly 20 years but decided in 2016 to purchase a metal printer and to help Iowa manufacturers explore the next leap in additive manufacturing technology. During the first year, CIRAS staff and students spent more than 3,000 hours producing parts and tooling as part of 12 test projects for eight Iowa companies.
"It's still very, very early for service bureaus to make a living in the state of Iowa," said Chris Hill, head of CIRAS' Technology Assistance Program. "But they are slowly moving in. . . . You're starting to get some more higher-end equipment moving into the state."
Agile Manufacturing sits in the shadow of two major manufacturers—Vermeer Corporation and Pella Windows—but is pursuing business across the state.
"I think there are a lot of people who are still sitting back and seeing how it fits into their situation," Fogle said. "I think technology has changed faster in the past year than it has in the previous 10 years. It's hard for people to keep up."
Gerald Beranek, owner of Beratek Industries in Cedar Rapids, launched his 3D printing business two years ago as a complement to making and selling his own products.
His customers, mostly entrepreneurs with low-volume manufacturing needs, are looking for help with design, prototyping, and production (picking the correct manufacturing method, which may be 3D printing).
"They're not coming to me just for 3D printing," Beranek said.
At HartSmart, the proprietor says he has seen "a definite shift within the last year, in that I've seen a lot more companies asking for prototyping."
Hart, who started his company partly as a hobby, now includes clients who are both inventors and more established companies. "It's a lot better understood than it used to be," he said.
> For more information about additive manufacturing, contact Chris Hill at chhill@iastate.edu or 515-313-8251.
 A version of this article was published in the Spring 2018 edition of CIRAS News. To read more of that edition or others, please explore elsewhere on our website.