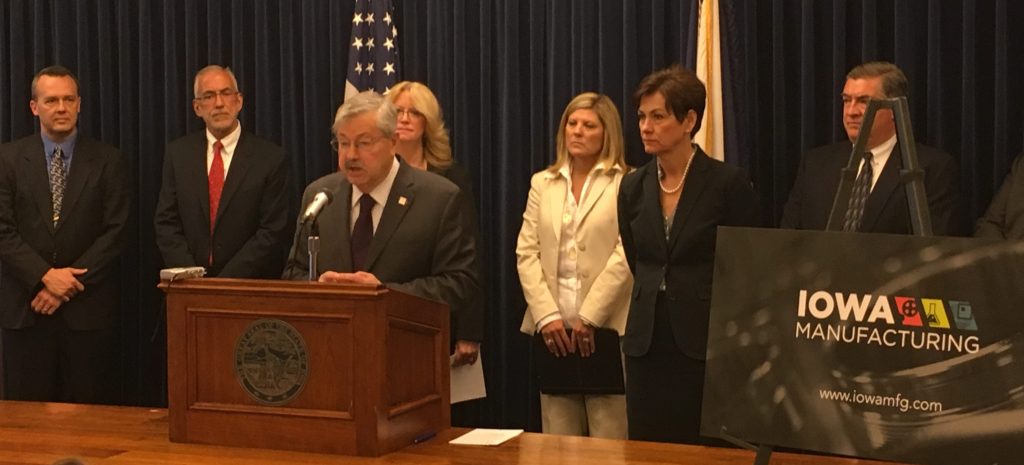 Industry experts from around the state are developing a detailed plan for growing Iowa manufacturing—with CIRAS slated to play a leading role both in the plan's design and its implementation.
The ongoing effort stems from 2017's governor's Year of Manufacturing initiative, which charged the Iowa Economic Development Authority and the Iowa Innovation Council (IIC) with finding ways to increase a $29 billion  manufacturing gross domestic product to $32 billion by 2022.
To get there, industry leaders will focus on the five main areas in which CIRAS already provides services—growth, technology, productivity, leadership, and workforce.
Among other things, the 12-page strategic recommendation issued by the IIC last November says Iowa should increase regional ties between manufacturers and work to attract more talent to manufacturing.
The IIC's Advanced Manufacturing Workgroup has been laboring since February to develop a detailed plan for how that should happen. The initial focus will lie in three areas:
Finding ways to network manufacturers together and link them to existing sources of assistance
Developing a specific plan for helping manufacturers get digital ready
Creating a plan for linking the additive manufacturing expertise available at Iowa universities so that it can be used to help small manufacturers grow
The 21-member workgroup includes CIRAS director Ron Cox.
"We're looking forward to working with a lot of smart people to help Iowa manufacturers and their communities prosper and grow," Cox said.
CIRAS already is working to aid the group's efforts. Services have been expanded in 2018, including a new slate of networking events and increased efforts to educate Iowans about the use of digital manufacturing techniques. At the same time, CIRAS also is developing joint additive manufacturing projects with the University of Iowa.
Watch this space for more information. To see the full recommendations, visit http://bit.ly/2FAfTaH.
A version of this article was published in the Spring 2018 edition of CIRAS News. To read more of that edition or others, please explore elsewhere on our website.