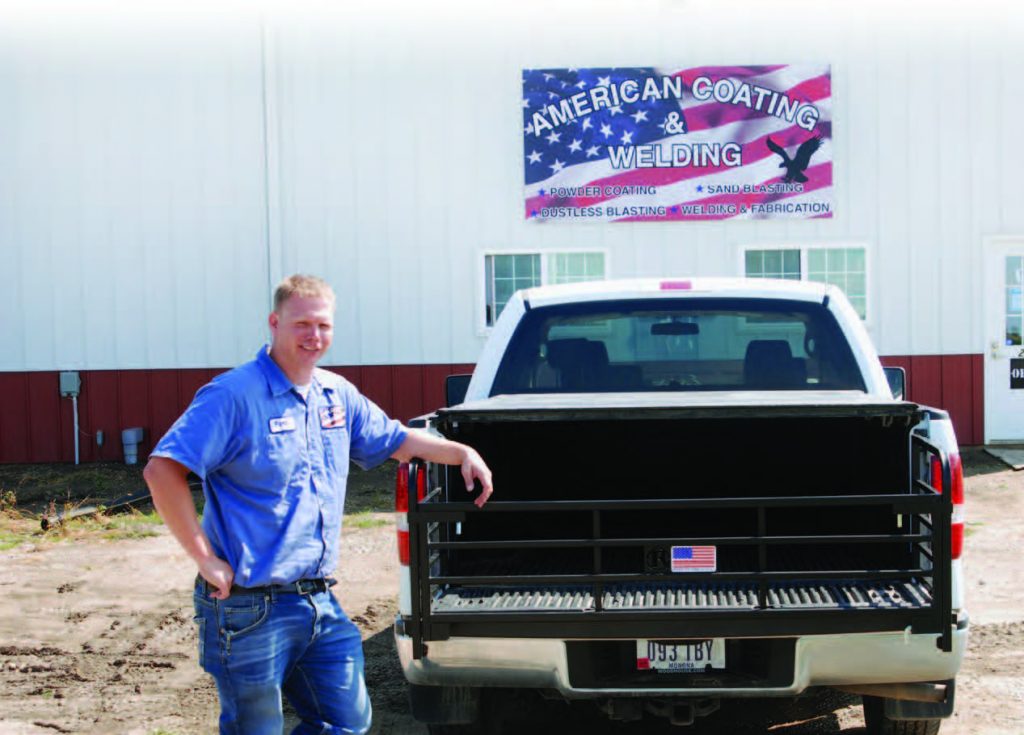 CIRAS government contracting specialist Andy Alexander was eating breakfast in downtown Onawa one morning in 2014 when he suddenly came face-to-face with the aspirations of a Monona County sheriff's deputy.
"He walked in and wanted to know if that was my government car out there," Alexander recalls. "I thought he was going to give me a ticket."
Instead, Deputy Randy Lee (at right) started chatting about his interest in powder coating metal. Lee, who spent a yearlong stint serving with a U.S. Army engineering unit in Afghanistan, was searching for a way to work for himself.
What followed that breakfast meeting was more than two years of in-depth mentorship, as Alexander and CIRAS project manager Mark Reinig guided Lee through everything from forming the company that became American Coating and Welding to finding a location for the business and making connections that helped Lee land work.
In February, U.S. Senator Joni Ernst visited American Coating to thank Lee for his service and to tout his company as an example of a successful, hardworking small business.
In addition to powder coating metal furniture and granite blasting old equipment, American Coating also fabricates parts for race cars and makes Circle R bed extenders for pickups.
"I feel strongly about where it's headed," Lee said earlier this year. "We are moving forward in a lot of different areas. . . . Andy has helped us a lot."
CIRAS' involvement with the company began shortly after Lee sought advice from Teresa Miller, then-president of the Monona County Economic Development Partnership for Growth. Reinig said Miller called him for help "because most economic developers know you go to CIRAS if you have a manufacturer that's looking to get going."
Alexander later helped connect Lee with special preference programs created to give military veterans a leg up with government contracting. Alexander, a former U.S. Army Ranger, since has served as a sounding board for many of Lee's business decisions. Lee has taken more than a half dozen CIRAS training classes, including one focused on helping companies develop a business plan.
American Coating so far has done only small-scale business with the government, including welcome signs for the city of Onawa and work on dump trucks for Monona County and the local Iowa Department of Transportation office. But CIRAS-arranged connections also have led to work for Sioux City Foundry, Missouri Valley Steel, and Peck Manufacturing. Lee is confident that more will develop once he proves that his company has staying power
"There's a lot of paperwork, a lot of hoops to jump through just to understand what they're even talking about," Lee said. "I can easily say that we would not be where we are with the government contracting without your guys' program."
> For more information, contact Andy Alexander at andyalex@iastate.edu or 403-547-0333.
A version of this article was published in the Fall 2017 edition of CIRAS News. To read more of that edition or others, please explore elsewhere on our website.