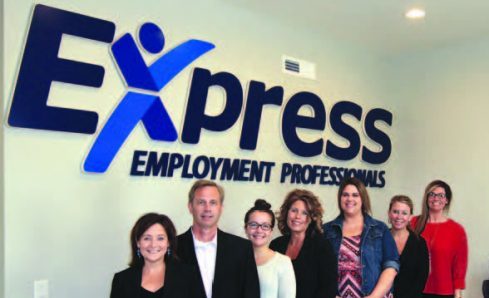 Connections created through CIRAS networking events and hands-on assistance have helped a Cedar Rapids-based recruitment company grow during the past year.
Express Employment Professionals is a full-service staffing agency specializing in the industrial, administrative, IT, and engineering fields. Michele Oswood, owner of the Cedar Rapids franchise, said her company's client base has doubled since she purchased the business in February 2016.
Oswood, who had worked for the company's previous owner and also for a different staffing firm, jumped into her new leadership role with the goal of broadening her office's reach. Two of her connections suggested she reach out to Julie Fagle, a government contracting specialist with CIRAS' Procurement Technical Assistance Program (PTAP).
CIRAS staff over the past year have introduced Oswood to potential prime contractors and other companies with whom she could eventually partner, Fagle said.
"Since Michelle acquired her business she has put it in a position to be successful," Fagle said. "She's attended and participated in many events throughout the corridor, including multiple events hosted by CIRAS. She truly values the power of relationships."
Oswood said she's in touch with Fagle at least once a week. "She's been that avenue to connect me to people that she knows."
The company has yet to pursue any government contracts, Oswood said, as that process is complex, and her staff is rather small. She wants to make sure the company is prepared "before I take that leap."
However, Oswood has signed up for CIRAS' government bid-match program and learned how to create a capability statement. She's also obtaining Targeted Small Business certification for her company.
Express Employment Professionals serves businesses seeking candidates for specialized positions. Potential employees are screened and recommended to clients. If a match is made, a temporary position is created and Oswood's company handles all the details, including payroll and benefits, until a permanent position is offered.
"It gives the client a good opportunity to see if it's going to be a good fit for them and also for the associate," she said.
Oswood sees a good fit in her work with CIRAS.
"Julie has been a huge help," she said. "I just needed that extra boost."
> For more information, contact Julie Fagle at jafagle@iastate.edu or 319-310-8612.
 A version of this article was published in the Summer 2017 edition of CIRAS News. To read more of that edition or others, please explore elsewhere on our website.