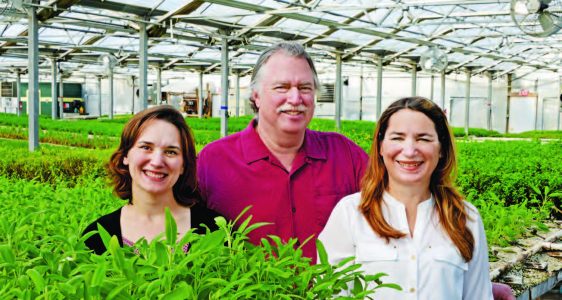 Success sort of snuck up on Dave and Denise Conkling. Their business sprouted and grew, until one day it seemed to have grown beyond their control.
"We started really small, and we just managed everything ourselves," said Dave Conkling, owner of Mariposa Farms. "We were looking at the business one way, because we had this 20-something years of experience. When CIRAS came in, they could look through different eyes, and it became clear to them what we needed to do."
Mariposa Farms started in Grinnell in 1995 as the first seedling of a new life. The Conklings, seeking to move back to Iowa after some time spent in the New Mexico home-building business, were looking for a new venture that could combine Denise's botanical expertise with Dave's experience in greenhouses. Their idea was to attack a then-nonexistent marketplace in Iowa— providing fresh herbs to retail stores.
And it worked.
Over the next two decades, Mariposa grew from three non-Conkling employees to 30. Today, shoppers in 15 states regularly purchase Mariposa herbs at a list of stores that includes Walmart, HyVee, Fareway, and Price Chopper, to name just a few. For many years, to put it mildly, the business has been busy.
"It's not a huge company, but it's different than I really expected it to be," Conkling said. "A lot of these things did creep up on us….Our management techniques, people skills—all of those things worked really well. But once we reached a certain size, they didn't work as well.
"It was just too much for us to do," he said. "Running everything else and then thinking through and having the time to make those kinds of long-term decisions. We really needed twice as much management, but we couldn't afford it."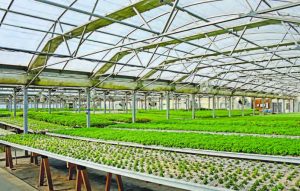 The issue came to a head last year when 60-year-old Dave Conkling began thinking about what Mariposa would look like without him in it. The conclusion ultimately was that it needed to be better. The Conklings, who hope eventually to pass the business to their daughter, Colette Conkling, were actively looking for consulting help when CIRAS account manager Brenda Martin happened to walk through the door one day and introduce herself.
"I read about them somewhere, then I bought some of their herbs in a grocery store," Martin said. "Then I found their website….The first conversation was that they didn't have a transition plan. Dave had checked out other resources and didn't really get anywhere with people who could coach him on how this transition should go."
CIRAS since has worked with the Conklings to evaluate Mariposa's finances, streamline the herb-processing operation, and help the company focus on those areas that will prove most profitable long term.
In one step, CIRAS project manager Jim Poe helped Mariposa Farms create a separate quality employee role to sort the herbs before they were delivered to packaging employees. The new system meant that packagers, who no longer were delayed by sorting through and replacing damaged herbs, were able to move faster and fill more orders. As a result, Mariposa's average production of 8,000 packages a day jumped to 18,000 and 24,000 during a few days in the company's busiest period last year.

For Poe, the changes provide a prime example of what can happen when successful businesses understand which parts of the production process need the most monitoring.
"Really, what it amounts to is how do you run a manufacturing facility? Because that's really what they are," Poe said. "How do you staff something? And how do you get the information to staff properly?"
Growing businesses frequently don't notice when they cross the threshold that requires a more formal approach to management, he said.
"They've been in this business for 20 years, and they've been happy with the results—not really knowing all the details about where they were making money and where they were losing money," Poe said. "In small companies, this is very common. I see it in basically every company I go into."
CIRAS account manager Sean Galleger also has been working with the company to analyze which parts of Mariposa Farms are most likely to impact the business' long-term health. The goal is to point the company's resources at those areas that will have the largest and longest-lasting effect.
"Like any small- to medium-sized business, they were running day to day and growing a fairly profitable and cash-flowing company," Galleger said of Mariposa Farms. "From month to month and quarter to quarter, they knew they were growing and doing OK. But when you try to say 'What is that worth?' that is a different mindset. A lot of small- to medium-sized companies are so wrapped up in day-to-day operations that they never have a chance to take a look at whether the company is growing and how they can increase its value."
"We're trying to paint that picture of what the company is worth and what drives those various areas of valuation," Galleger said. "A lot of companies focus on short-term decision making and how it effects day-to-day operations. When you look at company valuation, you should be looking at long-term decisions."
Conkling, who plans to continue working with CIRAS experts for at least another year, couldn't be more pleased with the new, unbiased perspective he's getting. More work is needed, however, to make certain that the new procedures become a repeatable part of the culture and not just a temporary fix.
"We saw production numbers during our busiest time of the year that were pretty unbelievable, just by making some of these changes," Conkling said. "It worked, but people get tired. We need to figure out how to make it last."
Conkling praised the objectivity and expertise of his CIRAS partners, who provide trustworthy advice "without trying to sell me something."
"Before, I kind of felt like the Lone Ranger, you know? Everything was on my shoulders," he said. "Now, I don't. It's kind of like I have the resources of a bigger company at a very reasonable cost."
> For more information, contact Brenda Martin at bkmartin@iastate.edu or 515-570-5282.
 A version of this article was published in the Summer 2017 edition of CIRAS News. To read more of that edition or others, please explore elsewhere on our website.