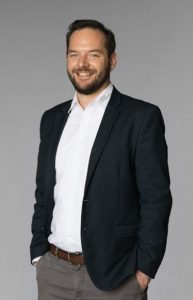 Every so often, CIRAS likes to take a moment and tall you a little bit about the people who make Iowa businesses better:
Max Droste runs manufacturing at Schumacher, a maker of farm equipment, and he'd like to see industry and education work together.
Explain your job.
We are a family-owned business with factories in Germany, Russia, Brazil and the US. I am in charge of manufacturing, including production, purchasing and logistics. I recently have been spending most of my time overseeing the new factory being built in Durant, Iowa.
How did you get started in Iowa industry?
Schumacher was founded in Germany during the 1960s. We worked with John Deere and other farming machine companies, and by the 1990s, saw potential for international expansion. We saw Iowa as the perfect location for everything. Here, we have access to critical infrastructure and proximity to big OEM accounts like John Deere, CNH, and AGCO. We are right in America's breadbasket.
How has the business/industry changed since then?
We started mainly as warehousing and a small amount of assembly from Germany. When manufacturing in Iowa became more of a necessity for reacting to demand, we decided that the company should grow production in the US.
Automation has become a much bigger part of the industry today. We still do manual labor, but automation has a continually increasing share of our company's production.
What's the key to success for somebody in your job?
Don't take things personally, and lead by example.
You've been appointed Supreme Leader. If you could change one thing about business in Iowa, what would it be?
I would lobby for a closer relationship between industry and education. I strongly believe in the correlation of education and people's ability to better themselves. As a millennial, I feel like it needs to become a lot more affordable, especially in the United States. As an employer, we also have a hard time verifying the professional requirements needed in our industry based on people's resumes and interviews. I come from a background where precise skills and theory taught are strictly regulated and defined by national standards.