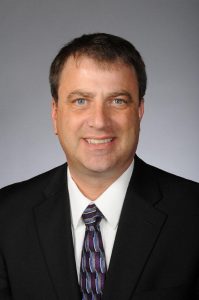 As one of CIRAS' chief points of contact, you've been inside hundreds of business over the past several years. What's the biggest change you've seen happen in an Iowa company?
Most recently, I've seen an increase in demand for the services of the companies I work with through CIRAS. I've also noticed that having an online presence is much more important today, and people have a greater appreciation for that.
Tell me what a client should expect the first time that you meet with them. 
My goal when I meet with clients is that together we can determine potential opportunities in the future and whether ISU can help them achieve measureable impact.
How many miles do you drive in a given year?
I usually drive around 20,000 to 25,000 miles per year.
What was your first job? 
I detasseled corn and walked soybeans for my first job.
How much time did you spend in the private sector before coming to ISU?
I spent around eight years in the private sector before being involved with CIRAS.
If you could wave your magic Account Manager wand and change one thing for Iowa manufacturers, what would it be?
My dream for Iowa manufacturers, I would want for them to have their own product(s) with intellectual property.