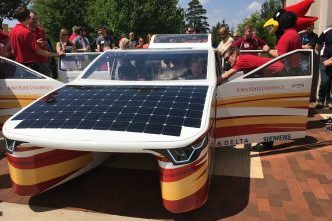 Chris Hill, director of CIRAS' Technology Assistance Program, said the center produced several 3D- printed pieces for this year's PrISUm vehicle, which the team is calling Penumbra. CIRAS' contributions include an emblem on the steering wheel, the latch on the rear hatch, and part of the steering linkage.
"We're happy CIRAS could contribute," Hill said. "We provided parts using both our metal and plastic technologies. The metal is stainless steel. The plastic uses chopped carbon within a nylon filament, and we added carbon fiber strands within those parts. They're light-weight and all extremely tough."
The PrISUm team has built 13 solar-powered cars since its founding in 1989 and raced in competitions throughout the United States. However, this October's Bridgestone World Solar Challenge will mark the first time PrISUm has competed outside the United States. And, in contrast to the futuristic design of the previous cars, this year's group will be competing in a four-passenger SUV.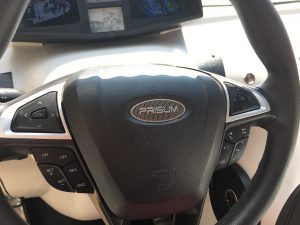 Team members at a Penumbra unveiling earlier this month described the car as their effort to build "a revolutionary product that we truly hope will change the automotive industry."
PrISUm members currently are working their way through a 99-county shakedown tour known as SunRun 2017 (with several stops in Polk County on Thursday). The public is welcome to come look at the car. Just check the schedule to see when it's near you.
For more information on 3D printing (technically referred to as additive manufacturing), contact Chris Hill at chhill@iastate.edu or 515-294-5416.