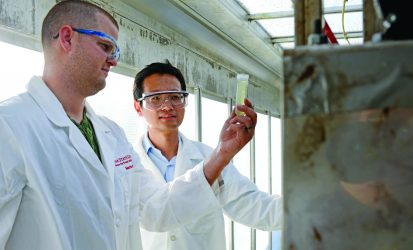 A pioneering enterprise formed to treat municipal and industrial wastewater with algae hopes to launch into large-scale operation this summer with construction of its first functional, city-sized test facility in Dallas Center, Iowa.
Gross-Wen Technologies, a company launched by Iowa State University researcher Martin Gross and professor Zhiyou Wen, has been working for roughly two years on plans to turn its discoveries into a two-pronged business. The Gross-Wen approach uses tanks of wastewater, vertical conveyor belts, and a special biofilm to grow and harvest the algae. Once water treatment is complete, the algae can be scraped off the belts and sold as a fertilizer, effectively subsidizing the cost of running a large-scale treatment system.
Darren Jarboe, an Iowa State program manager who also serves as vice president of business development for Gross-Wen, said the technology eventually could find a place in everything from spot contaminant treatment at water-heavy industrial businesses to drinking water purification for Iowa cities concerned about incoming nitrates. Markets are still being explored as the technology matures and a business begins.
"There are a lot of potential potholes for us to hit along the way," Jarboe said. "We know some of them, but we're probably going to hit others as we go."
Gross said research done both in Iowa State labs and on six pilot-scale systems set up as part of a test project for the city of Chicago shows that algae is roughly 10 times more effective than traditional methods at removing major contaminants from water.
"Essentially, what we're doing in the whole process is we're taking the nitrogen and phosphorus from where they're polluting water, and we're moving them to where they're actually needed," Gross said.
Algae production is only a side benefit of the process, however.
The primary advantage for Brian Slaughter, Dallas Center public works director, is the possibility of holding costs low while still responding adequately to a state mandate that his city do more to remove ammonia and nitrates from its wastewater. Slaughter said small communities across Iowa are facing similar deadlines to improve their aging lagoon treatment systems, which often have difficulty performing adequately in cold weather.
Dallas Center operates its wastewater treatment system on a four-year permit from the state Department of Natural Resources. Slaughter said the city needs to have improvements in place by 2020.

"The algae is very promising," he said. "If it could hold our costs down, that's awesome. We've got 1,623 people here. If you start building a $5 million treatment plant, that's a tough one for our residents to pay out of their water bills."
The next step for Gross-Wen is to manufacture and install a larger version of its system. The company hopes by the end of this summer to start construction of its first city-sized treatment facility in Dallas Center. The plant initially would be owned and operated by Gross-Wen as a test site.
Dallas Center city council members discussed the idea for the first time in January, sounding intrigued but wary of still-unanswered questions—such as the price and whether or not there's time for the algae system to win state regulatory approval before the city permit runs out.
Gross, Wen, and Jarboe see Dallas Center, if all goes well, as something that could be replicated throughout Iowa and the rest of the Midwest. In smaller versions, the technology has already proven to be adept at cleaning localized wastewater issues. CIRAS spent 2016 working with Gross-Wen to test the company's process and helped connect researchers with a handful of water-heavy industrial businesses in need of specific wastewater treatment assistance.
One was CJ Bio America, an animal feed supplement company that tested Gross-Wen's process for removing nitrogen from water.
"Environment-friendly solutions such as this are not only critical to our success as an ecofriendly company, they are necessary for a long-term, sustainable, and healthy earth for future generations," said senior operations manager Luke Palmer. "We look forward to continued collaborations."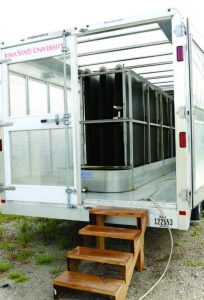 Companies like Gross-Wen could provide an important service to manufacturers, according to CIRAS program director Mike O'Donnell, because they offer the possibility of an interim solution for businesses that have grown beyond the limits of their existing wastewater-cleansing technology.
State regulatory permits for manufacturers who capture their own pollutants are based on capacity, O'Donnell said, and "we know there are Iowa manufacturers whose growth is limited by water discharge issues."
More broadly, CIRAS account manager Brenda Martin calls Gross-Wen "a really good example of how research moves toward commercialization."
The Iowa State researchers "were looking for an efficient way to grow algae as a fuel source, and they discovered that the algae was an efficient way to clean the water and take some nasty stuff out," Martin said.
"CIRAS really helped them connect with the right industries. . . . We got jars of sewage from companies, and they tried it in the Department of Food Science and Human Nutrition. They then brought more to the BioCentury Research Farm (near Ames) and ran the system for several days."
Gross said work on the technology itself is largely complete. The Chicago tests, which involved a series of conveyor belts ranging between 3 and 6 feet tall, seem to have established that larger is more efficient. The belts allow algae to prosper in the sun and air while simultaneously making it easier to harvest.
"We weren't the first people who have ever thought of using algae for water treatment, but we believe that our algae-growing system is the best algae system that's been developed so far," Gross said. "Basically what we're doing with Chicago is showing that it's feasible."
The remaining task is turning the system into a product. The Dallas Center treatment plant, if built, would be owned and operated by Gross-Wen for a while in an attempt to win formal licensure from the Iowa Department of Natural Resources. If all goes as planned, the city eventually would purchase the plant and run it as an add-on to Dallas Center's traditional sewage treatment operation.
Gross, Wen, and Jarboe believe the technology eventually may make sense for water plants, as well as wastewater treatment facilities—although capacity may remain an issue for large communities.
"Right now, we are focusing on small communities," Wen said. "But our technology is flexible."
> For more information, contact Brenda Martin at bkmartin@iastate.edu or 515-570-5282.
 A version of this article was published in the Spring 2017 edition of CIRAS News. To read more of that edition or others, please explore elsewhere on our website.