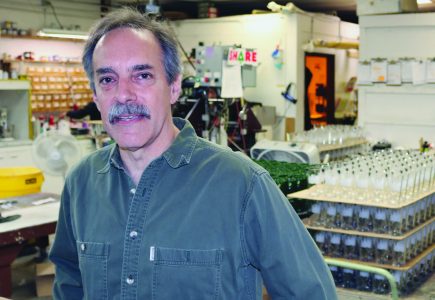 Everything seemed to be going great, Dan Svec recalls, until the first hints of a recession appeared and began to expose the weaknesses at PyroGraphics.
In 2008, the West Des Moines printing company, which specializes in business promotional items and souvenirs, was starting to struggle in a declining economy in which most promotion had stopped. By 2012, when the company discovered CIRAS, the end was very much in sight.
"Five years ago, we were a company that was just trying to survive—and that was really in serious question," said Svec, PyroGraphics' president. "Now, we're beginning to thrive."
PyroGraphics now has nearly double the 12
employees it had in 2012 and recently posted its fourth consecutive year of 10 percent revenue growth.
"I think it's been an unparalleled success," Svec said of the company's relationship with CIRAS. "The resources that CIRAS has brought to us are resources we would have a very difficult time accessing at a reasonable cost any other way."
Over the last four years, PyroGraphics has turned to CIRAS for help improving its website and deciding which customers to target. But Svec traces much of the company's improvement to a "current reality tree" process that CIRAS used to map problems back to their root causes. CIRAS account manager Derek Thompson then helped coach the company about possible solutions.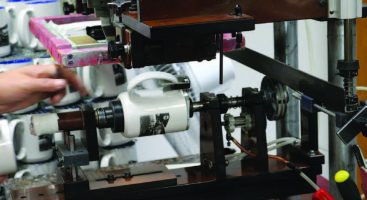 Thompson describes CIRAS' involvement as helping PyroGraphics build a "business management structure." Thompson worked with the company to develop a scoring system for its customers so employees could prioritize the most profitable clients. And he encouraged PyroGraphics to schedule monthly staff meetings "so everybody is on the same page, and they can identify what they need to work on so they're more productive."
"It sounds pretty basic," Svec said. "But there are an awful lot of us out here who are entrepreneurs who have this good concept for a business but kind of struggle when the rubber meets the road."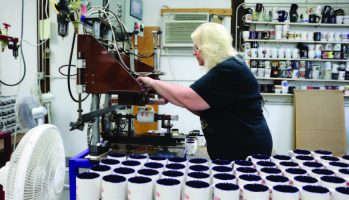 Svec, who built special machines for PyroGraphics to allow the precision adjustments necessary in printing multicolored logos on mugs and glassware, said the new structure has freed him to focus on larger issues—such as finding ways to be more efficient and working to diversify the company with new business. Among other additions, PyroGraphics now prints elaborate bottles for distilleries and small batches of cups for internet gift stores (higher margins) alongside the usual large orders for national promotional products distributors.
"Before, business just used to come to us," Svec said. "Now, we're proactively going out there and getting it."
> For more information, contact Derek Thompson at thompson@iastate.edu or 515-419-2163.
 A version of this article was published in the Winter 2017 edition of CIRAS News. To read more of that edition or others, please explore elsewhere on our website.