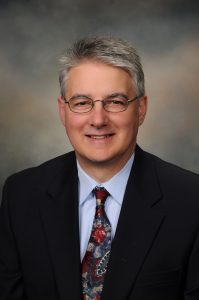 "As one of CIRAS' chief points of contact, you've been inside hundreds of business over the past several years. What's the biggest change you've seen happen in an Iowa company?" 
A privately owned company in a "traditional" heavy equipment industry has been preparing for a leadership and ownership transition. Over the past several years, they have strategically brought in a set of leaders that has changed the way the company approached the market in order to differentiate themselves. They have learned to take prudent risks, and to influence the market, rather than letting the market influence them.
Tell me what a client should expect the first time that you meet with them. 
I like to have a general conversation on the business and a tour. This lets me listen to their priorities and get an idea of what they do and how they do it. Combining the two helps me identify pain points and have conversations about what they need to do to make positive change.
How many miles do you drive in a given year?
Over 20,000!
What was your first job? 
First job was working at a knife factory in Washburn, IA. I polished, grinded, and buffed aluminum handles.
My first job after college was at the Lake City Army Ammunition plant, working for Olin Brass.
How much time did you spend in the private sector before coming to ISU?
30 years.
If you could wave your magic Account Manager wand and change one thing for Iowa manufacturers, what would it be?
I would make them more technology capable. Our manufacturers need to increase their ability to perform 3D design and have basic electronic device-to-device communication capabilities, preparing them for the Internet of Things.
Paul Dunnwald, who works with businesses in roughly the southwest quadrant of Iowa, can be reached at dunnwald@iastate.edu or 515-509-1377. Click here to see which CIRAS account manager is responsible for understanding business needs in your Iowa county.