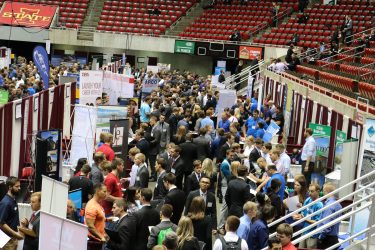 Hundreds of companies will again flock to the Iowa State University campus next week for a twice-yearly ritual focused, on both sides of the handshakes, at quickly forging as many relationships as possible.
Ryan McSweeney, a senior majoring in chemical engineering, spent a full afternoon at last September's Engineering Career Fair methodically working down a list of companies he had previously researched. McSweeney stood in lines, chatted with recruiters, and occasionally retreated to the Hilton Coliseum seats to rest and regroup.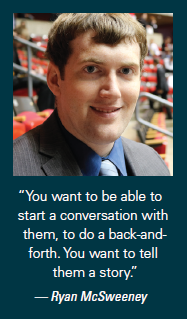 "It's a lot of stress when you're looking for a full-time job," he said. "You want to be able to start a conversation with them, to do a back-and-forth. You want to tell them a story."
Some recruiters had plans to interview on campus outside the career fair, McSweeney said. Some were promising phone calls down the road, or asking students to also apply online. But "everybody seems to be taking it seriously."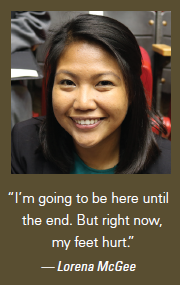 Nearby, chemical engineering major Lorena McGee sat and described a similar strategy. At mid-afternoon, she still had several more companies to meet.
"I'm going to be here until the end," she said. "But right now, my feet hurt."
September's Engineering Career Fair included a record number of companies. But Iowa State University stresses that corporate recruiters are welcome on campus at any time of the year, and companies are encouraged to set up their own events to meet with potential employees. Businesses interested in hosting a recruitment event through the College of Engineering may email ecs@iastate.edu.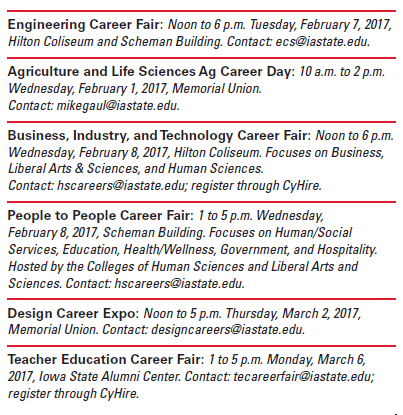 A version of this article was published in the Winter 2017 edition of CIRAS News. To read more of that edition or others, please explore elsewhere on our website.