Three major business deals involving some of Iowa's most innovative and best-run firms in their fields should send a strong message to other Iowa companies, CIRAS believes: innovation combined with strong business skills reaps substantial reward.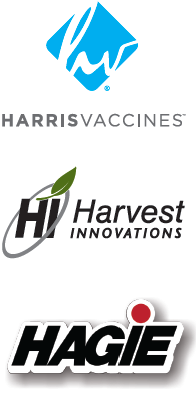 The owners of Harrisvaccines, Harvest Innovations, and Hagie Manufacturing all agreed over the past year to sell major portions of their companies to larger firms. All now stand to profit substantially from a newly broadened reach for their industry-leading products.
Ames-based Harrisvaccines was sold to pharmaceutical giant Merck & Co. in November 2015—at least partly, according to company statements at the time, to help Harrisvaccines grow.
Joel Harris, associate director of marketing for Merck Animal Health, said Merck still "sees strategic value in the Harrisvaccines brands and associated RNA vaccine technology" and intends to keep the vaccine production in Ames.
Meanwhile, the owners of Indianola-based Harvest Innovations continued working this summer to blend their firm with Archer Daniels Midland Company. In February, ADM announced that it had purchased a majority stake in Harvest Innovations, which produces soy proteins, oils, and gluten-free ingredients. At the time, an ADM official said Harvest Innovations "perfectly complements our existing ingredient businesses and offers customers a full-service, one-stop shop for their ingredient needs."
The third company, Hagie Manufacturing, announced in March that it had sold a majority stake to Deere & Company. Deere officials described the Clarion, Iowa, sprayer manufacturer as "known for its innovation and its strong customer understanding" and promised to continue the Hagie brand. A Deere spokesman later said the purchase "was based on expanding our product line to new customers."
The overarching theme among these companies, according to CIRAS Director Ron Cox, is that they all have strong management teams, strong workplace cultures, and strong track records for innovation.
"It all starts with the fact that all three of these companies had visions that were bigger than selling something to make money," Cox said. "They created strong business systems, with employees and leaders who are invested in doing the right things to help the business. In the process, they've each developed strong products that certain segments of their markets really, really want."
All three also are CIRAS clients and have worked on projects estimated to have had a combined economic impact of nearly $200 million over the last five years.
"Obviously, innovation can be profitable," Cox said. "The lesson for other Iowa companies is to aim high."
For information about how CIRAS can help foster innovation, contact Ron Cox at rcox@iastate.edu or 515-294-0099.
A version of this article was published in the Fall 2016 edition of CIRAS News. To read more of that edition or others, please explore elsewhere on our website.