Perhaps the best way to think about the Kieffer family is to picture them with fishing poles, staring longingly into a lake. The owners of Preston, Iowa-based Plastics Unlimited seem ready, and they talk as if dinner is inevitable.
"We're working very hard to get new sales, but we're in a waiting mode on many different projects that we recently have quoted and made prototypes for," sales manager Dakota Kieffer said in describing millions of dollars in pending bids for work. "It's not like these projects are unsuccessful. The companies aren't saying 'No.' But they're not saying 'Yes' either. They're just waiting."
"We're at the point where we could double in size in a month," Kieffer said. "Or we could not grow at all."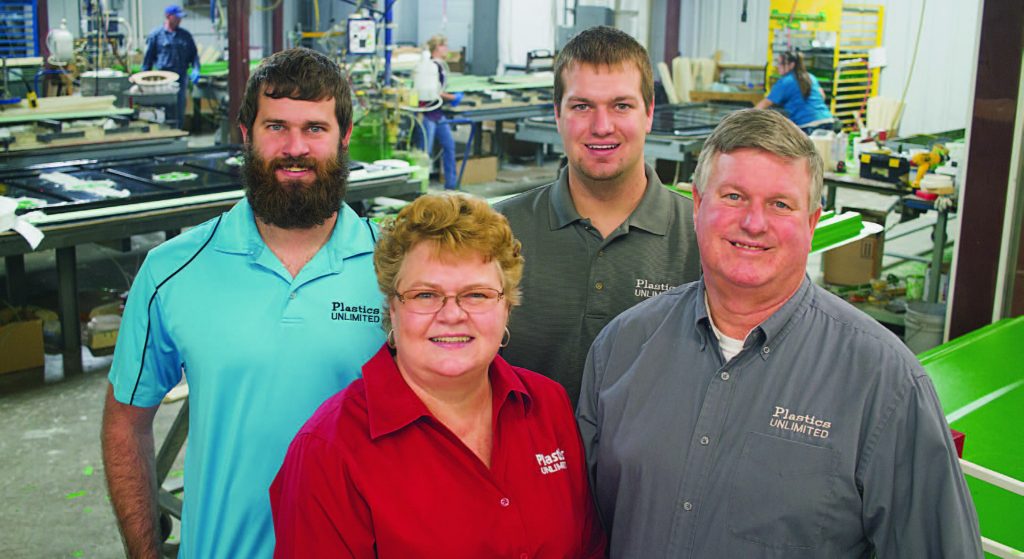 Plastics Unlimited, a 50-employee thermoforming company, has been in transition for several years. The company was founded in 1993 by Terry Kieffer, a then-farmer in search of a new business.
"I just decided that I wanted to find something that took some expertise," he said. "Plastics was something that was not going away."
Kieffer and his wife, Nancy, formed a company and spent years developing new applications for the work— including making panels for agricultural equipment. Along the way, the company discovered CIRAS, which facilitated many different layers of business and technical assistance, including vital lab testing for the company's patented process of bonding plastic and fiberglass. Plastics Unlimited later estimated in surveys that work done between 2010 and 2013 by CIRAS and its partners had an economic impact in the tens of millions of dollars.
"One of the things we did was help them transition from plastics contract manufacturing into a company that's more engineering based, diversified, and willing to step into other markets," said CIRAS account manager Sean Galleger. "They've taken off from there. They no longer need that basic business or engineering technical expertise— they've got some of that in their two sons."
Travis Kieffer, who graduated with an industrial engineering degree from Iowa State University in 2012, now serves as chief operating officer for Plastics Unlimited. His brother, Dakota, received an Iowa State business management degree in 2013.
Terry Kieffer currently plays a prominent but lessened role in the company and remains excited about its future. Long dominated by agricultural clients, Plastics Unlimited is working on such diverse products as making skins for passenger rail cars and packaging for a toothbrush maker. The company also recently won a bid to provide parts for European forklifts.
"We're taking it to the next phase now," Terry Kieffer said. "The next phase really looks to be a lot more exciting."
> For more information, contact Sean Galleger at galleger@iastate.edu or 515-290-0181.
A version of this article was published in the Summer 2016 edition of CIRAS News. To read more of that edition or others, please explore elsewhere on our website.