The project is the latest in a series of successful collaborations, beginning when Harvest Innovations first approached CIRAS shortly after the company was founded in 2009.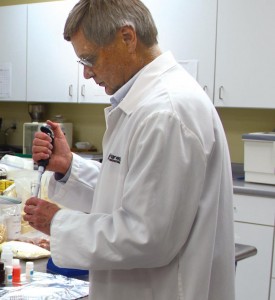 Harvest Innovations, which manufactures chemical-free, nonGMO, gluten-free, and organic food ingredients, initially sought help creating a business continuity plan. A year later, the company toured the pilot lab at Iowa State University's Center for Crop Utilization and Research (CCUR) and quickly arranged to work with CCUR on a proof-of-concept study and a shelf-life study. Additional work followed.
The most recent project bore fruit in 2014 after nearly three years of effort. CCUR worked with Harvest Innovations to turn a prototype process for legume protein extraction into a large-scale production capability. The result already has helped a small Iowa agri-science company build a larger national profile.
Dr. Noel Rudie, director of research at Harvest Innovations, has been the lead on multiple projects with CIRAS and CCUR over the past six years—projects that resulted in an economic impact in the millions of dollars, according to surveys completed by the company.
Rudie, who also serves on the CIRAS Advisory Council, said CCUR has helped Harvest Innovations grow and "it's actually driven some business commitments for us."
For example, following completion of the business continuity plan, Harvest Innovations was able to contract with a large cereal company that likely would not have worked with the Iowa business otherwise.
That growth is expected to continue as Harvest Innovations adds sales spawned by its legume protein process.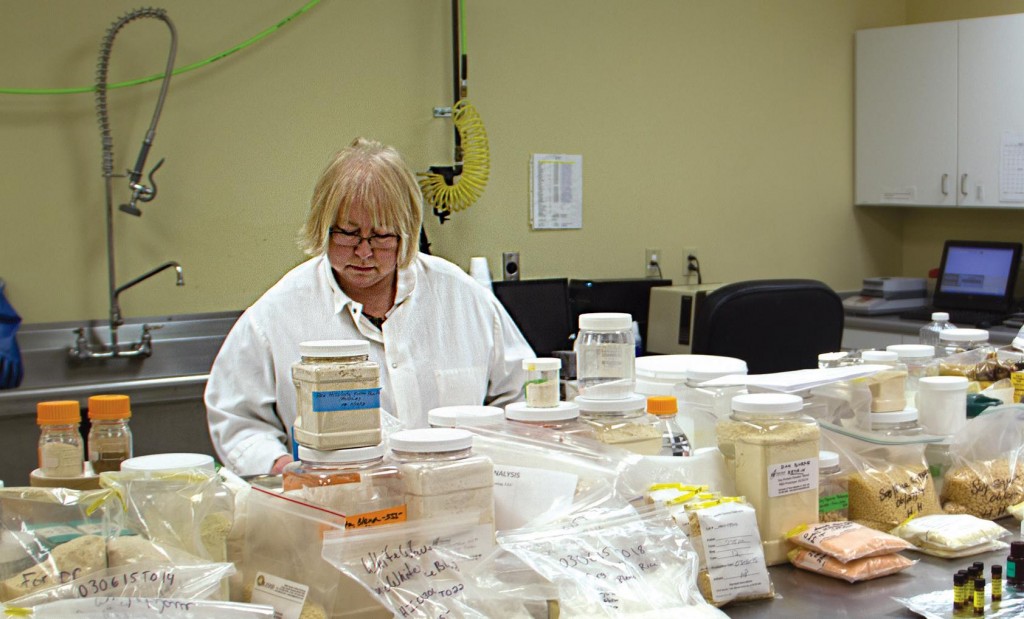 By doing this research, we've been able to have the proteins purchased from an Iowa company as opposed to being sourced from the Pacific Rim," said Barry Nadler, Harvest Innovations president. "It's coming from Iowa producers of soybeans – Iowa processors – as opposed to bringing it from overseas sources."
Harvest Innovation's manufacturing also is substantially more efficient now because CCUR helped the company figure out how to better control its pneumatic system, which cut losses and increased throughput.
Darren Jarboe, program manager for CCUR, said the legume project involved two major efforts. "One was to make smaller samples they could send out to customers and send out to labs to test and see if they function like they're supposed to," Jarboe said. Next, "they took the process they developed and put it into a large scale, tons quantity."
Hui Wang, pilot plant manager at CCUR, said their equipment helped Harvest Innovations test its process before committing to a full-scale effort.
"Our mission is to help faculty, help students, help industrial companies to succeed," Wang said. "When we help them with that, we are happy."
Dr. Wilmot Wijeratne, director of food technology at Harvest Innovations, traveled to the CCUR lab frequently as the effort advanced. The company used applied research to optimize results as the project moved toward creating a full commercial production process. "I can say now we have, with the help of CCUR, accomplished that," Wijeratne said.
CUR cites economic development as a key reason for its work to aid the development of new products and increase the demand for crops. Harvest Innovations is a prime example of how that works, according to Rudie. He credits CIRAS and its connections, including CCUR, for helping the company grow.
"We might have been able to work with a large cereal company, but it was work with CIRAS that helped the company get the contract and start working right away," Rudie said. "We're always looking for those kinds of opportunities and looking at what the market is asking for. We know we have a resource we can go to when those questions are asked and we can move forward."
This article originally appeared in the Spring 2015 edition of CIRAS News. You can find the rest of this issue and more of CIRAS News on our website.
To read a companion story, click here.