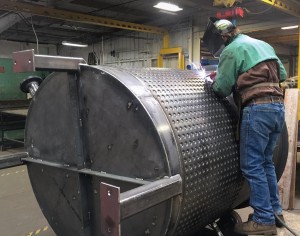 "After that conference, we met with John Deere and are now considered one of their vendors," Connell said. "They are a Fortune 500 company and had never heard of Air Control. That, to me, was really big."
Government contracting specialist Beth White describes CIRAS' role in introducing such matches as just the beginning of what can be achieved when businesses such as Air Control set and work toward bigger goals. Opportunities abound—especially since federal rules actually require some larger firms to work with small businesses.
"We provided some of the connections and some education," White said of Air Control. "They have taken it to the next level."
It has been a long and fruitful collaboration between Air Control and CIRAS.
"We were going to build a whole new building and basically they told us we didn't need to do that, but we should look at utilizing our existing building differently," Connell said. "That was a really nice experience with them."
Most recently, Air Control worked with White to apply for Small Business Administration 8(a) certification. The lengthy process to receive that classification was recently approved and marks Air Control, a female-owned company, as economically disadvantaged compared to other firms in the same line of work. That opens more opportunities under federal rules.
Working with CIRAS, Connell said, taught her how to navigate the extensive list of requirements and paperwork that made the case showing the 57-year-old family heating and cooling company should get those opportunities that can help it grow and compete on a larger scale.
Connell said Air Control hopes to double in size and reach sales of $12 million to $15 million a year now that it has the 8(a) certification. White, she said, helped the company "every step of the way."
"It's up to us to get the work," Connell said. "But Beth is there to put out information and help us run with it."
> For more information, contact Beth White at 563-370-2166 or whiteb@iastate.edu.
This article originally appeared in the Spring 2015 edition of CIRAS News. You can find the rest of this issue and more on our website.
To read a companion story, click here.