Attendees will have the chance to network with and learn from key leaders in Iowa industries, as well as officials at federal, state and local government agencies.  Learn how to be more successful (and make more money) in this market.
Some confirmed exhibitors/attendees include:
Iowa DOT
Iowa State University
Iowa Department of Administrative Services
Iowa National Guard
Small Business Administration
and many more…..
To register or simply find more information on the event, click here.
In the meantime, here's on example (from a last-year edition of CIRAS News) of how government contracting can help your business grow:
Near the end of 2012, Kari Burnside was handed the keys to a then-dormant Sioux City company and was instructed to "see what she could do with it."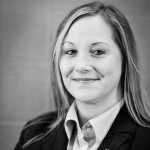 A bit more than a year later, Burnside and five staff members can boast of turning Regency Consulting into a dynamic, thriving supplier of computer hardware and services, mostly to federal government agencies. Under Burnside's leadership as director of sales—and with a little guidance from CIRAS' Procurement Technical Assistance Program —federal contract awards grew from $7 million at the beginning of 2013 to about $9 million by the end of the year.
"It's been a blessing," Burnside said. "CIRAS has been instrumental to my success over the last year."
The task of building Regency from the ground up was daunting, but Burnside, who has a background in computer sales at Gateway and other companies, attacked the problem. She quickly learned how the government market worked and found agencies that fit Regency's client profile. Burnside also contacted the U.S. Small Business Administration (SBA) for assistance and learned that she could register Regency as an 8(a) firm, which would give the company preferential treatment by the federal government.
It was the SBA that suggested Burnside connect with CIRAS. Since June 2013, Regency Consulting has worked closely with Gordon Bonnes, a CIRAS government contracting specialist based in western Iowa. Bonnes helped Burnside find contract information and contacts inside the government. He also assisted her with developing a general supply award (GSA) schedule.
"If I need anything, he's so knowledgeable," Burnside said. "He's always ready to help."
With a successful 2013 in the books, Burnside says her goal for 2014 is to focus on specific accounts to grow Regency's base.
"I'm trying to drive the business and grow it in targeted areas," she said. "Last year I was all over the place, just trying to get my name out there."
CIRAS helped her focus.