It's been a wild and wooly economy the past three years, but CIRAS is looking forward to the upcoming year with new ways to help Iowa businesses manage oncoming challenges.
"2023 is going to be a year where we learn a lot about where the economy and industry is going in the next three to five years in terms of economic stability, supply chain issues, and trade," said Mike O'Donnell, CIRAS Associate Director.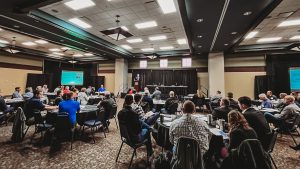 To help Iowa businesses prepare, CIRAS has new services and events on the horizon:
An expanded Digital Manufacturing Lab. Created in 2019, the Digital Manufacturing Lab powered by Alliant Energy is designed to help Iowa manufacturers get advice on using technology to address workforce or productivity issues. It also offers the opportunity to test-drive solutions and refine them in minimal-risk ways before investing in them. The digital lab recently acquired a vision system for inspections, smart sensors for vibration and temperature mapping, smart tower lights for remote monitoring, and additional 3D printers.
Expanded workforce strategy service. "Workforce issues are going to get worse in Iowa before they get better," O'Donnell says. To help, CIRAS will be releasing new tools in 2023 to help businesses make decisions in a workforce-constrained economy.
Expanded inventory and supply chain services. CIRAS works with clients to help them better manage inventory and to develop a stronger, more resilient supply chain. Starting in late January, CIRAS is launching new hybrid training programs to help strengthen skills for people in supply chain roles.
Meet the Buyers events will be held on February 15 in Des Moines and April 20 in Omaha. Featuring local, regional and federal government agencies, this event gives businesses an opportunity to network and develop relationships with government agencies, prime contractors, and local corporations that want to expand their supplier base.
The 2023 Iowa Lean Consortium (ILC) Conference will be held on October 26. The ILC is a member-driven consortium dedicated to connecting member organizations to the resources.  they need to develop their teams and improve productivity. The keynote speaker will be Katie Anderson, leadership coach and the author of the best-selling "Learning to Lead, Leading to Learn."
"We are looking at another year of uncertainty, and uncertainty favors the prepared," said O'Donnell. "CIRAS is ready to help Iowa businesses make informed decisions on next steps that can help them navigate these uncertain times."
For more information, contact Mike O'Donnell at modonnll@iastate.edu or (515) 509-4379.