Here is CIRAS's quick look at major economic indicators for Iowa. For an introduction and a description of the indicators used, see our first post.
| | | | |
| --- | --- | --- | --- |
| Indicator | Status | Underlying Data | Notes |
| ISM Manufacturing PMI® | | | Manufacturing contracted for the second consecutive month. Most measures indicate a general slowing; however, employment grew in December. |
| Mid-American Index | | | Midwest manufacturing contracted, with significant drops in new orders and production offset by increases in most other metrics. |
| Iowa Index | | | Iowa contracted in all indicators, including significant drops in new orders, production, and employment. |
| Iowa New Unemployment Claims | | | Unemployment claims have risen, generally in line with pre-pandemic levels. Manufacturing is also seeing some increases above normal levels. |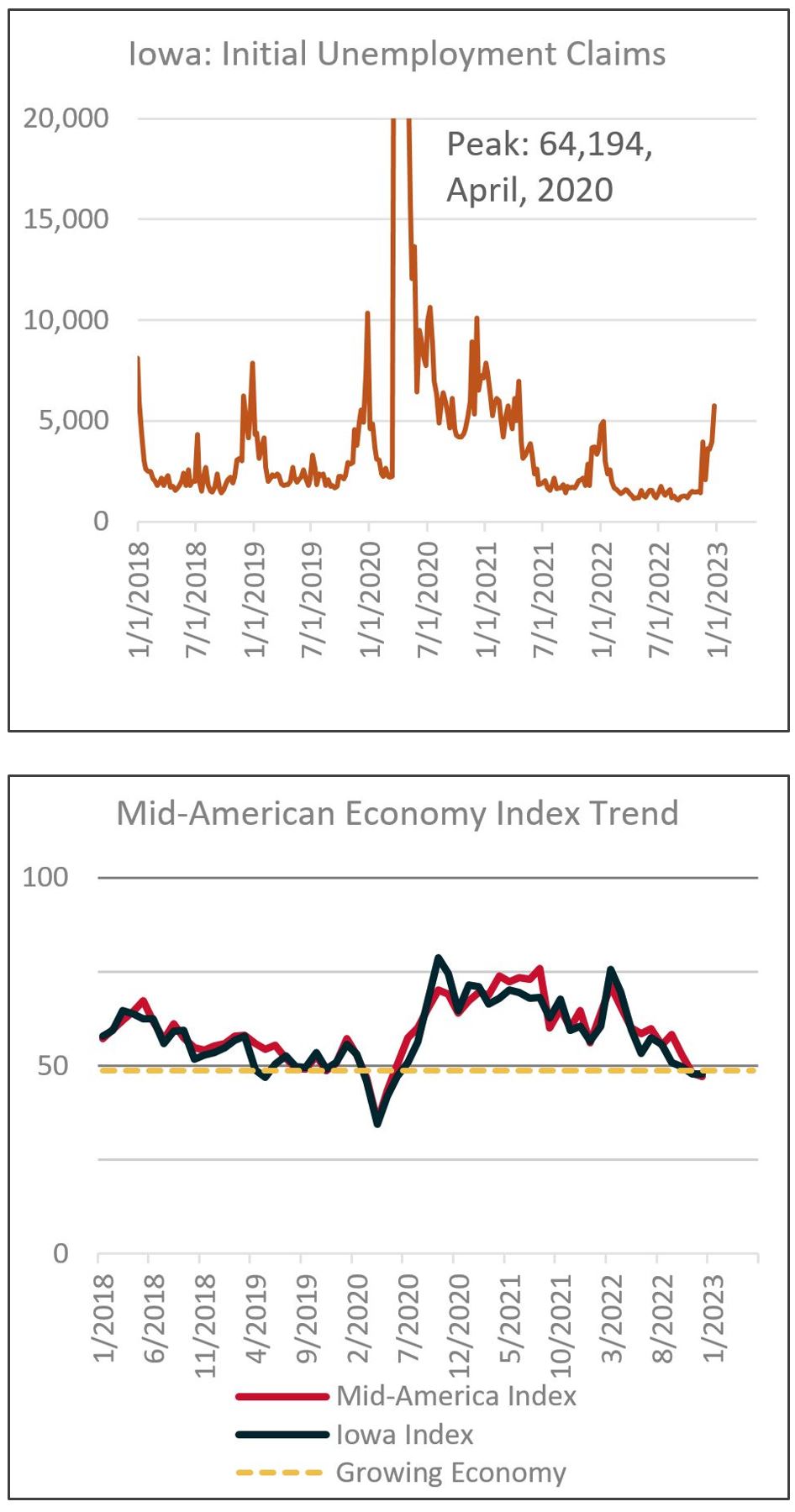 CIRAS Assessment
After several months of uncertainty, we are now seeing the first signs of moderate stress in the manufacturing economy. New orders continued to decrease nationally, regionally, and in Iowa, indicating continued reduced production in the coming months.
It is important to remember that the PMI indicators compare results to the previous month. After over two years of supply chains being stressed beyond capacity, it will likely take several months of reduced demand and production to return to pre-pandemic levels. Some indicators show signs of "normalizing" – such as employment increasing across the Midwest despite production output decreasing. However, if new orders continue to remain low, this will likely result in more significant impacts to Iowa's economy.
Manufacturers should be reviewing cash flow carefully at this time. The combination of high inventories, inflationary prices, increased interest rates, flat production, and reduced demand may create pressure on cash availability. Supply Chain leaders should also be asking key suppliers about their cash flow, looking for other signs of stress, and carefully considering payment terms.
If you would like a brief monthly digest with updated indicators click here to subscribe. For more information, contact your local strategic advisor or government contracting specialist.