Iowa manufacturers are turning to CIRAS with questions on how to maintain productivity and profitability when workforce is in short supply. Depending on the application, the answer can be automation or using robotics instead of humans to perform tasks like machine-tending.
"Machinists are high-skilled employees, but some of the tasks they perform do not require the same level of skill," said Andrew Friend, CIRAS project manager. "Automating simpler, more repetitive duties can free up existing employees to do higher value work elsewhere in the business."
CIRAS helps clients assess their processes to understand the potential for automation and identify key requirements of a possible solution. When companies are ready to take the next step, CIRAS helps them identify integrators like HALTER CNC Automation, a Cascade company with more than 30 years of experience in the metalworking industry, and a leader in robotic systems for CNC machine automation.
"With machinists in short supply, manufacturers are using automation as a way to remain competitive, meet deadlines, and make more efficient use of existing employees," said Daren Manternach, HALTER sales executive.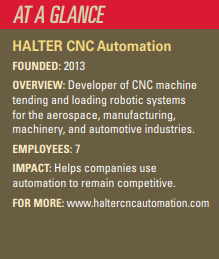 Robotic machine tending systems are typically installed on CNC lathes and mills. These systems are programmed to do loading and unloading of parts normally done by a CNC operator. This frees up the time of the skilled machinist to perform higher value tasks such as programming the CNC equipment and ensuring proper operation and maintenance. Application of machine tending solutions can allow one operator to manage many machines. In certain settings, you can move machine tending systems between workstations to perform different actions at each location.
The use of machine tending is one example of how the lower cost and increased capabilities of these systems have impacted adoption in recent years. Similar trends are being seen in automated material handling, camera-based quality inspection, and many other automation technologies. Friend added, "Given the workforce shortages faced by many businesses, automating entire processes or even segments of a process can be an effective approach to help a company grow without adding workforce."
For more, contact Andrew Friend at afriend@iastate.edu or 515-520-2803.