Iowa State's CIRAS Digital Manufacturing Lab powered by Alliant Energy continues to invest in technologies that fit the needs of Iowa manufacturers.  
"Technology can change rapidly through software, hardware, or material improvements," said Chris Hill, CIRAS program director. "A key to the continued success of the digital lab is to ensure we have access to some of the latest technologies that companies should be considering for their applications. Working with our current and future industry technology partners will help us accomplish this goal."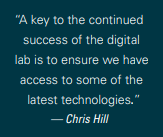 The Digital Manufacturing Lab, powered by Alliant Energy, opened in 2019. The lab is designed to help give Iowa manufacturers access to technology and advice to support key strategic objectives like quality, productivity, and workforce. Utilizing the lab allows companies to evaluate these technologies before making an investment, reducing their risk.  
"While our ability to host in-person activities was hampered by the pandemic, we continued to serve companies remotely and continued to identify new applications," said Hill.  
Those technologies include rapid changing robotic end-of-arm tooling, a vision system for inspections, smart sensors for vibration and temperature mapping, demonstration skids for process monitoring, and wearable sensors. The lab also added two polymer 3D printers. 
"The initial feedback from lab visitors has validated our efforts and made the lab even more beneficial to Iowa companies. Look for additional upgrades in 2022," said Hill. 
The Digital Manufacturing Lab has already helped numerous clients use technology to find new solutions to old problems.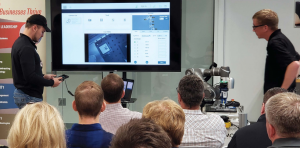 The lab is hosting a series of monthly tours throughout 2022. The three-hour, in-person events are designed to familiarize visitors with new technologies and how they can be leveraged for specific tasks. Attendees also have the opportunity to try out some of the technologies and discuss their specific needs with experts. Registration for tours is available online at www.ciras.iastate.edu/events-workshops/. 
For more information on the lab, contact Chris Hill at chhill@iastate.edu or 515-313-8251.