A Davenport business owner who turned to CIRAS for assistance with securing government contracts has already seen dividends in the form of new work. 
Jeno Berta owns Halberd Security, a company that installs, repairs, and services security systems that protect buildings, infrastructure, and technology. Berta launched his company in 2019 with business partner Chris Chonto. The CIRAS Procurement Technical Assistance Center (PTAC) helped Halberd become certified as a Service-Disabled, Veteran-Owned Small Business, which set the company up to compete for government set-aside contracts. Halberd recently received two federal awards, including one for a series of projects at the Federal Protective Services Building in Iowa City. 
"I feel confident saying that without CIRAS we would not have received our certification," Berta said. "Without their guidance, we would not have been able to navigate the process. Even if you're aware of what's required for government contracting, it's just folly to try to do it on your own."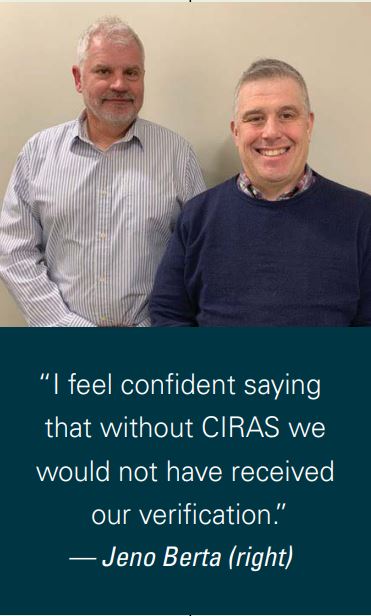 Berta worked with Melissa Burant, a former PTAC counselor who now leads supplier
 scouting for CIRAS. 
Berta describes Burant as "a perfect mixture of encouragement, enthusiasm, tough love, more tough love, and endless knowledge." And the assistance she offered wasn't limited to navigating government paperwork. 
Berta credits CIRAS with making him aware of professional development opportunities like on-demand training on subcontracting rules."Things like that make a big difference, especially to small business owners," he said. 
Halberd Security is a natural extension of a military and law career that spans nearly three decades. Berta is an Army Reserve Lieutenant Colonel and Judge Advocate who served on active duty on three occasions, including an 11-month deployment to Iraq in 2009 with the 1st Cavalry Division, one of the most decorated combat divisions in the U.S. Army.  
Berta's military service inspired his company slogan, Veterans helping protect America, and provides motivation for the work his company does. 
"The world is not getting any safer," Berta said. "And the way technology is changing, something that was state-of-the-art not that long ago is now obsolete, if not a lia
bility. That's where we come in." 
Berta is also committed to providing "other veterans with their next mission." 
"Many veterans returned from service and were able to transition with few problems," Berta said. "But for others, transitioning into the civilian world has been challenging.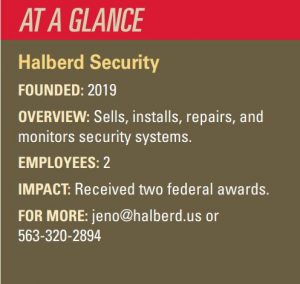 Some don't necessarily want to be around a lot of other people, for example. The work we offer is perfect for them: they can go into a new building or one that's being rehabbed, and there's no one else there; they can pull cables or focus on other work assignments and never have to interact with other people, if that's what they need." 
Berta won't limit new hires to veterans, however. When he's ready to expand his workforce, he'll consider any applicant interested in protecting people, places, or information. 
Berta also credits CIRAS with helping his company navigate the process of applying to the Small Business Administration's Mentor-Protégé Program (MPP). The program helps qualified small businesses like Halberd gain capacity and win government contracts through partnerships with more experienced companies. Halberd recently received MPP approval. 
"We're engaging with our mentor regarding what 2022 holds," Berta said. "I have no doubt we'll move forward and grow, and we have CIRAS to thank for that." 
For more, contact Jodi Essex at jodir@iastate.edu or 515-509-0769.