CIRAS and industry partners continue to invest in new technologies for Iowa manufacturers.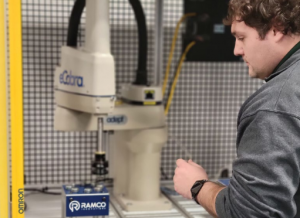 Ramco Innovations recently donated a selective compliance articulated robot arm (SCARA) to CIRAS. The company is a technology partner in the Digital Manufacturing Lab created in 2019 with substantial donations from Alliant Energy and the Iowa Economic Development Authority. The lab is designed to help Iowa manufacturers get advice on using technology to address workforce or productivity issues. It also offers the opportunity to test and refine solutions in minimal-risk ways before investing in them.
Chris Hill, director of the CIRAS Technology Assistance Program, said Ramco and other partners are "key to success in helping companies de-risk technology adoption. We can demonstrate how technologies like robotics could be used for various applications and help companies understand the advantages and limitations of the various lab technologies."
Robots like SCARA are designed to automate processes on the plant floor. For example, the machine can do tedious, repetitive tasks like assembly operations, giving employers the flexibility to use workers for tasks that are more challenging and require problem-solving skills.
"It's hard to fill positions these days, and once you find people, it's hard to keep them doing a repetitive task," said Joe Stoltz, vice president of technology at Ramco. Robotic automation addresses both concerns, Stoltz added, who also pointed out the value of being a CIRAS technology partner.
"It's a good partnership because CIRAS works with a lot of small- to medium-sized manufacturers that could benefit from our services," he said. "They do a great job educating manufacturers on the technology, trying to reduce the fear of the unknown."
In recent months, the lab has acquired other new tools including a vision system for inspections, smart sensors for vibration and temperature mapping, smart tower lights for remote monitoring, and 3D additional printers. CIRAS has also added wearable sensors from Iowa-based Ma-kuSafe. Hill has worked with several companies on the use of sensors in their plants, which led to the adoption of the technology.
"Having a partner like CIRAS, who is a proven leader in innovation for manufacturers here in Iowa, has been invaluable," said Matt Joens, customer success lead at Ma-kuSafe. "Their ability to showcase our product in the digital lab and present the possibilities for wearable safety technology and integrating the connected worker into advanced manufacturing environments is advantageous for all stakeholders. We've been able to conduct exploratory meetings with prospective customers in which we can fully demo the capabilities and functionality of the product. That has certainly helped us secure a number of implementations with various manufacturers around Iowa. Their understanding of challenges that face manufacturers in Iowa has been demonstrated by the success we have had in partnering with CIRAS and the companies they work with on a regular basis."
The lab is hosting a series of monthly tours throughout 2022. The three-hour, in-person events are designed to familiarize visitors with new technologies and how they can be leveraged for specific tasks. Registration for tours is available online at www.ciras.iastate.edu/events-workshops.
For more information on the lab, contact Chris Hill at chhill@iastate.edu or 515-313-8251.