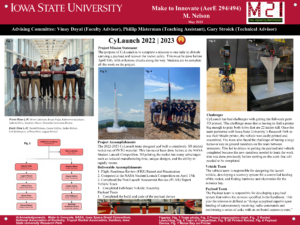 Members of the CyLaunch team were just months away from the competition they had been preparing for throughout the 2022-2023 school year when they learned their original plan to utilize tools from a local facility one of the members was interning at was not an option. The team was directed to CIRAS for assistance, still in hopes of having their project completed for the quickly approaching competition under such a short timeline.  
CyLauch is a student rocketry team at Iowa State that designs and builds a high-powered rocket for NASA's Student Launch Competition, held each spring Huntsville, Alabama. The competition provides students with the opportunity to design, build and test a rocket and payload in a competitive atmosphere with schools across the country.  
While the competition didn't require the team to print the parts for the registered rocket, Iowa State's group wanted to go above and beyond, which is where CIRAS came into the picture.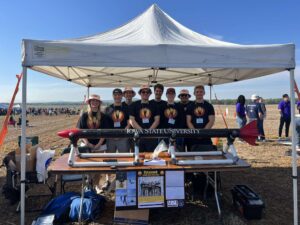 CIRAS provided the students access to the necessary technologies to print parts to build the rocket in preparation for the competition. Along the way, CIRAS staff helped by not only satisfying the team's equipment needs but offering advice on the design of the project as well. Staff members dedicated their time to teaching students about Design for Manufacturability (DFM) techniques and strategies to improve the overall project to save time when printing. 
"Specifically with this type of project, we're hoping to get younger engineers to think about the design process and DFM, which is very critical," said Jake Behrens, Project Manager for CIRAS. "Helping to show these students what is smart to print, how to alter a design to make it easier to print, or incorporate a stronger geometry, we're hoping that they're walking away with those design fundamentals that they may not have had exposure to so their long term employer doesn't have to let them learn the hard lessons on the job."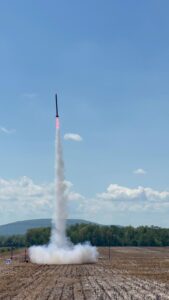 With the last-minute assistance of CIRAS, the team was able to compete in the competition with a successful launch of the final project. The rocket hit an altitude of 4016 feet above the ground, reaching NASA's range of altitudes.  Watch the launch online here. 
CIRAS will be helping CyLaunch during the Fall 2023 semester, as well, and is already assisting in printing samples for their next project.  
"The reason we stepped in and helped out with a project like this is that the students wanted to go above and beyond and try something new," Behrens said, "and whatever we can do to facilitate that pleases us. We're happy to help support students trying new ideas and processes or seeing how they can improve current ones. We didn't just help these students because they're a part of Iowa State. We helped them because they wanted to do more and were on their path to do that."  
For more information, contact Jake Behrens at jbehrens@iastate.edu or 515–815–5003