Here is CIRAS's quick look at major economic indicators for Iowa. For an introduction and a description of the indicators used, see our first post.
Indicator

Status

Underlying Data

Notes
ISM Manufacturing PMI®
Manufacturing contracted for the fourth consecutive month. Inventories and prices continued to grow, while most other measures remained contracted moderately.
Mid-American Index
The Midwest had relatively significant growth in February. The only indicator below 50 was the confidence index, which at 38.1 registered the highest since December 2021.
Iowa Index
Iowa manufacturing experienced moderate growth, with all indicators except employment in the growth range.
Iowa New Unemployment Claims
Initial unemployment claims in Iowa remain low. Manufacturing initial claims remain below typical pre-COVID historical averages.
CIRAS Assessment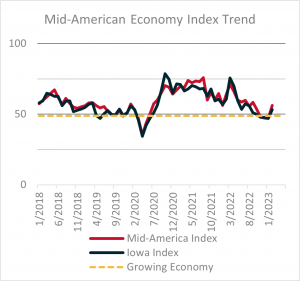 After several months of low to moderate contraction of the manufacturing sector, the Midwest region and Iowa both showed substantial improvements this month. As with a one-month drop in the indicators, businesses should not overreact to a one-month growth in indicators.
While we continue to see mixed signals, we generally see more positive information than negative over the past month from both quantitative and qualitative sources.
We see a concerning trend for manufacturing leaders regarding the workforce. The Mid-American Economy employment index for Iowa has registered as contracting for 8 consecutive months, total manufacturing employment
in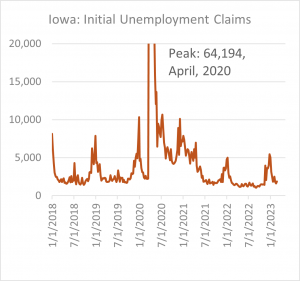 Iowa seems to have peaked in October 2022, according to the Current Employment Statistics program, and unemployment claims remain exceptionally low. This may indicate continued struggles to find and retain people in the industry. Leaders should continue to develop and deploy strategies to grow in a workforce-constrained environment.
If you would like a brief monthly digest with updated indicators, click here to subscribe.
For more information, contact your local strategic advisor or government contracting specialist.