Watching Iowa's Economy: December
Here is CIRAS's quick look at major economic indicators for Iowa. For an introduction and a description of the indicators used, see our first post.
Indicator
Status
Underlying Data
Notes
ISM Manufacturing PMI®
Manufacturing contracted last month, the first reported contraction since May 2020.  Inventories and production grew last month.
Mid-American Index
Overall in the Midwest, manufacturing contracted slightly more than nationally. The components of this show moderate drops from last month.
Iowa Index
Iowa contracted slightly more than the rest of the Midwest, with continued volatility in most measures.
Iowa New Unemployment Claims
While unemployment claims have risen, they have risen less than typical November rises in previous years. New manufacturing claims remain low.
CIRAS Assessment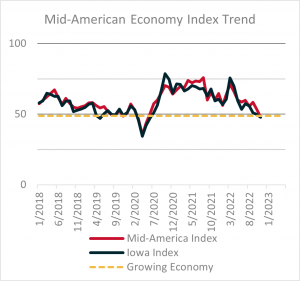 Across the nation, we saw a small contraction of manufacturing in the past month. New orders continued to remain suppressed, indicating that we will likely see some continued contraction in the coming months.
A positive sign in the data is the consistency among measures, indicating some signs of stability. Since the beginning of the pandemic, the overall positive manufacturing indices have been driven by unusually high values in a handful of measures in any given month. These outliers were constantly moving, with massive swings from month to month. While we may be in a mode of contraction, results at this level may point to manageable contraction rather than uncontrolled significant drops in the market.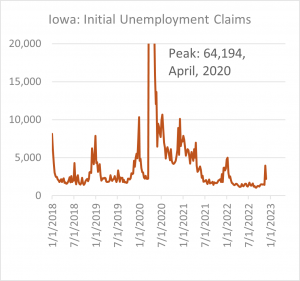 If you would like a brief monthly digest with updated indicators, click here to subscribe. For more information, contact your local strategic advisor or government contracting specialist.