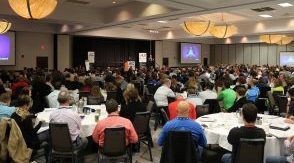 The Iowa Lean Consortium's Annual Conference will take a step closer to its familiar format this fall – but this time, it will be as part of a new hybrid model designed to accommodate a variety of different comfort levels related to COVID-19.
The Annual Conference, traditionally the ILC's largest and most extensive yearly opportunity for Lean advocates to network and learn, was shifted online last year because of the pandemic.
This year's conference, slated for October 26-27 will have a variety of ways for people to attend. Options will include a large in-person event in Altoona, a live-streamed online feed, or attending one of six satellite events that will be set up at locations around the state.
Tracy Schuster, program director of the ILC, said the hybrid format recognizes that corporate policies and individual preferences now include a broad range of opinions about the pandemic. Some ILC members are anxious to return to normal, while others are not yet comfortable sitting in a large group.
"We're hearing from members that they want to get together in person," Schuster said. "But even if I'm ready to get back to in-person events, my employer may not let me."
As a compromise, this year's conference will be based at the Prairie Meadows Conference Center in Altoona, with keynote speeches from John Foley and Neil Pasricha. Foley teaches that high performance is a mindset, a process, and a state of being that accelerates everyday achievement, while Pasricha speaks on resilience and breakthrough performance in times of change.
The keynote addresses will be broadcast online for anyone who would prefer a virtual conference experience, Schuster said. Or, participants will be able to view them from a regional satellite location.
Smaller breakout groups, on a variety of Continuous Improvement topics, also will be broadcast from Altoona. But additional breakout groups also will take place at the satellite locations, providing plenty of opportunity for face-to-face discussion in smaller groups.
In-person venues will follow guidance from Iowa State University and the Centers for Disease Control when it comes to social distancing and hygiene requirements, Schuster said. But regardless of what those requirements may be in October, the smaller groups will allow participants to network with Lean leaders in their own regions without facing as much exposure.
"We want to give everyone the chance to network and learn at their own comfort level," she said.
Sponsorship opportunities still exist for the conference, Schuster said.
For more information, visit www.Iowalean.org or contact Tracy Schuster at tschust@iastate.edu.