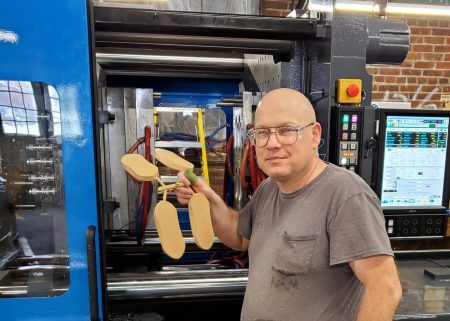 A Keokuk maker of grooming brushes and other agricultural products expects to save at least 50 percent on energy costs after CIRAS advised the company during replacement of an aging plastic injection molding machine.
Tony Fox, president of Decker Manufacturing, said his company contacted CIRAS last summer seeking unbiased advice about replacing an aging hydraulic machine that had become an energy hog and needed frequent repairs.
CIRAS project manager Abhay Grover walked Decker through the relative merits of electric and hydraulic plastic injection machines. Once Fox chose the all-electric version, Grover connected Decker with an Iowa-based automation consultant and found other companies willing to talk about their experiences using the same model.
Decker estimates that the new machine will help the company retain more than $500,000 in threatened sales and save thousands of dollars a year in energy costs.
"We did a lot of research on our own, but we still had some questions," Fox said. "CIRAS just kind of put our minds at ease that we were making the right decision."
For more information, contact Abhay Grover at agrover@iastate.edu or 515-509-1485.
A version of this article was published in the Spring 2021 edition of CIRAS News. To read more of that edition or others, please explore elsewhere on our website.